April 7, 2014
A Young Boy Finds Joy in Wind Chimes, and It's Absolutely Magical
---
Tyler Doi is listening. He's hearing the sounds a wind chime is making from an adjacent room. He's paying close attention. After a few seconds, he shouts out the name of the chime he just heard. And he's right.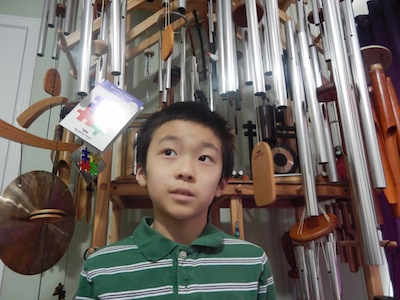 Tyler is an 8-year-old with autism who's developed a love for music and an ear for differentiating wind chimes' sounds. So, when his parents noticed his new passion, they called up Woodstock Chimes in Shokan, N.Y., drove eight hours to its headquarters and met founder and owner, Garry Kvistad.
When Tyler first met Kvistad, he ran up and hugged him.
"He'd been researching our website for a long time, so he knew who I was," Kvistad told The Mighty. "It was like we were old friends."
Inspired by Tyler's talent, Kvistad and Woodstock Chimes have created a chime called "Chimes for Autism," along with a video (below), featuring Tyler and his parents.
"If nothing else, I want [Tyler's story] to provide hope," Kvistad told The Mighty, "and inspire people to learn more about autism."
"I don't wish that [Tyler] didn't have autism because that's how we know [him] now," Alison Doi, Tyler's mom, says in the clip. "And I wouldn't change him for anything. It's who he is, and we love him."