May 14, 2014
There's a Serious Problem in the Military. One Mom Is Going to Fix It.
---
There was a time in her life when Wendy Kruse felt like she was in the only military family that had a child with a disability.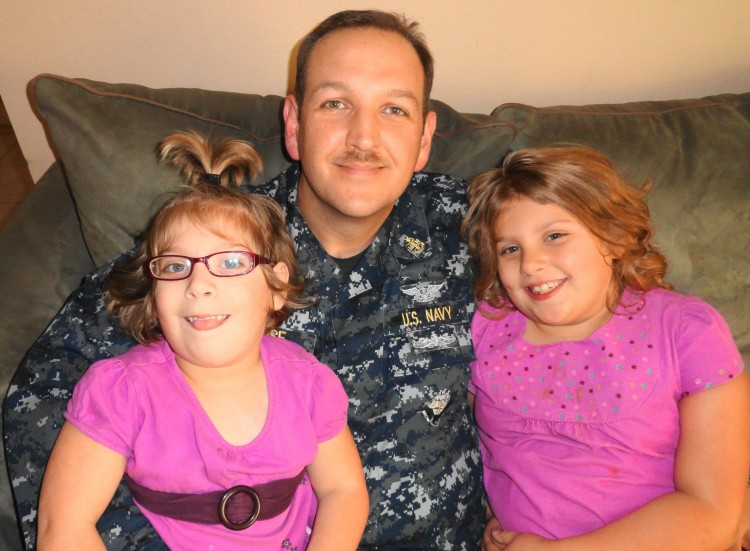 One of her two daughters, Addie, has spastic quadriplegia cerebral palsy and nonverbal autism, among other developmental delays. In 2011, when Kruse's husband, Kevin, a master chief petty officer in the navy, was deployed to Afghanistan, she was left in their Seattle home feeling isolated by the unique challenges her family faced. That aloneness persisted until the day she went to a meeting for military spouses and met a mom whose child has autism.
"We looked at each other and thought, 'Oh gosh, we can't be the only ones,'" Kruse recalls. She realized didn't have to be alone.
A few weeks later, Kruse and that mother set up a meet-up for military dependents with special needs family members. Ten people showed up. They began meeting monthly. In time, that number became 200.
"We thought, 'OK, we've got great support,'" Kruse recalls. "But what about the families in Alabama? What about the families in Japan?"
They decided to take their mission online and to a greater scale. Thus began the Military Special Needs Network's journey — one that grew quickly thanks largely to Facebook. Today, 3,600 families are a part of Kruse's network. All 3,600 have her phone number. MSNN is about support, building relationships, educating and staying positive, Kruse says. Its members call each other in the middle of the night. No topic is too sensitive to discuss.
"We get the questions the professionals don't," Kruse says. "And if we don't know the answers, we find them."
Today, Kruse lives in San Diego and has her eye on making MSNN an official nonprofit. She and two fellow military spouses, Kelly Hafer and Miranda Fort, run its day-to-day operations — hosting weekly Q&A sessions on Facebook, putting together resources for military families, organizing events so members can meet each other, continuing outreach and working to fill gaps the military doesn't supply for families with special needs.
"When there's a party on a navy ship, we can't go because there's no wheelchair access," Kruse explains. "If there's a Christmas party with thousands of people there, a person with behavioral issues wouldn't be comfortable. The military does an OK job at supporting us, but there's more to be done."
Kruse sees herself as the arms, legs and voice of her daughter, Addie. MSNN is a place to magnify that voice.
"It's a fight, but it doesn't have to be a negative fight," Kruse says. "It doesn't matter if you're marching on congress or standing up to the PTA, it's important that you're your child's best advocate. We're just the information and support."
"Every family is different," she adds, "but together, we build one heck of a community."