June 3, 2014
I Spent an Afternoon With a Group of Blind Beatboxers
---
Just when I think I cannot possibly hear Pharrell's "Happy" one more time, Taylor McFerrin plays it from his MacBook. Its beat echoes throughout the classroom we're sitting in at the Lavelle School for the Blind in the Bronx, and while I wait for Pharrell's voice, I watch the ten or so students sitting in a semicircle react to the music. Like marionette puppets, they come to life. Some bop their heads back and forth. Others tap their feet. One girl covers her ears and shuts her eyes. A young boy, who at one point looked like he was seconds away from a good nap, perks up.
Pharrell's voice isn't coming in.
McFerrin, who's sitting in the front of the room behind a computer and a piano keyboard, hands a microphone to a girl in pink to the left of him. "I know the first and the second verse," she declares, and before McFerrin has the chance to count her in, she's off. It might seem crazy what I'm 'bout to say. At one point, she loses the beat by a count or so, but McFerrin doesn't correct her. When the chorus comes, the rest of the class erupts. They're loud. In a good way. Clap along if you feel like a room without a roof. Surely this is what Pharrell had in mind when he wrote that line.

Bridging Education and Art Together (B.E.A.T) is a nonprofit that, for the last four years, has been teaching beatboxing and music-making to the blind and visually impaired students of Lavelle. Two days a week the "BEAT Rockers" come to the school's music room and ask the kids one question: "What kind of music do you want to make today?"
"Beatboxing is all about accessibility. You don't need instruments. You are the instrument," BEAT director and co-founder James Kim explains. "We're not only saying, 'Look at what you can do,' to these kids. We're saying, 'You're needed. Without you, there's no music.'"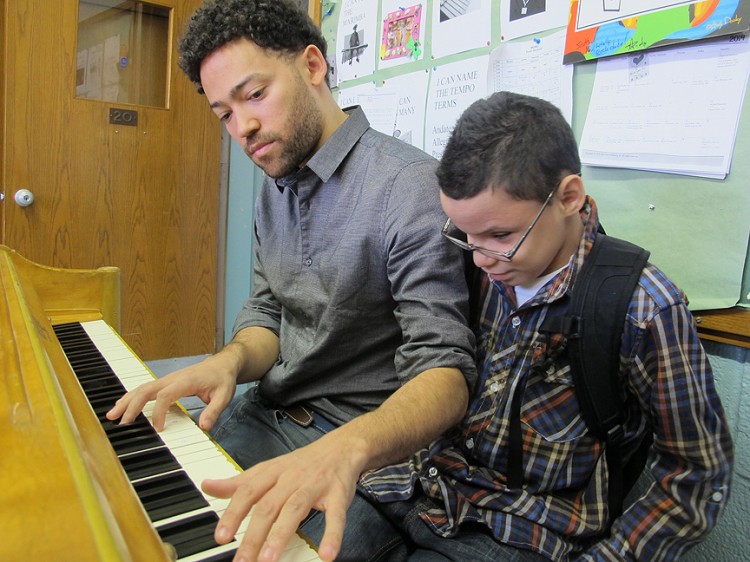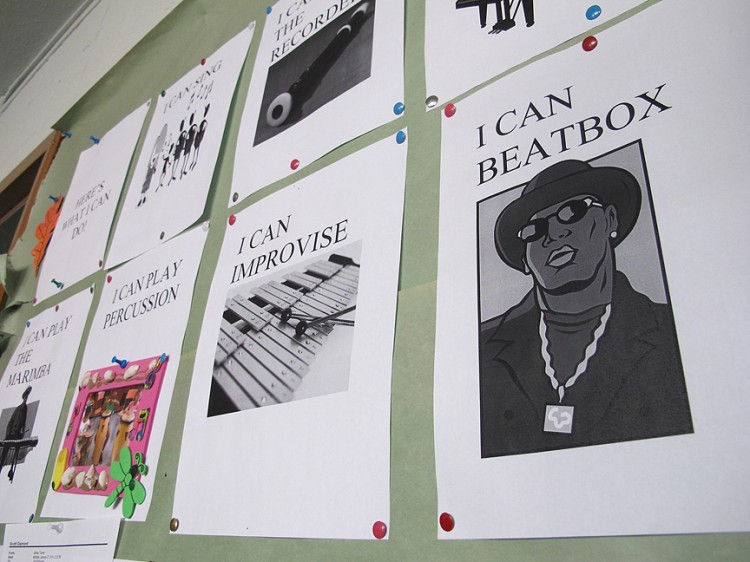 While the chorus continues, the girl in pink passes the mic down to a young man who's a bit louder (and a lot smilier) than the rest. He starts the second verse. Here come bad news talkin' this and that. Halfway through it seems like he's getting jumbled. I'm sitting across from him, ready to rationalize any mistake he makes. I'm armed with excuses like, "Well, he has a physical and an intellectual disability," "At least he seems to be enjoying himself," "Who knows all the words, anyway?"
But he's not stuttering. He's remixing.
"H-A-P-P-Y, H-A-P-P-Y! Hey!" he chants, perfectly on beat. "H-A-P-P-Y, H-A-P-P-Y! Hey!" The rest of the class catches on. Each "hey!" is louder than the next. From behind the piano, McFerrin starts adding beats, complicating the well-known song just the right amount. The dancing picks up. No one looks ready for nap time. The girl who had her ears covered in the beginning now has her hands resting on her shoulders. This goes on for about three minutes. I lay down my assumption armor.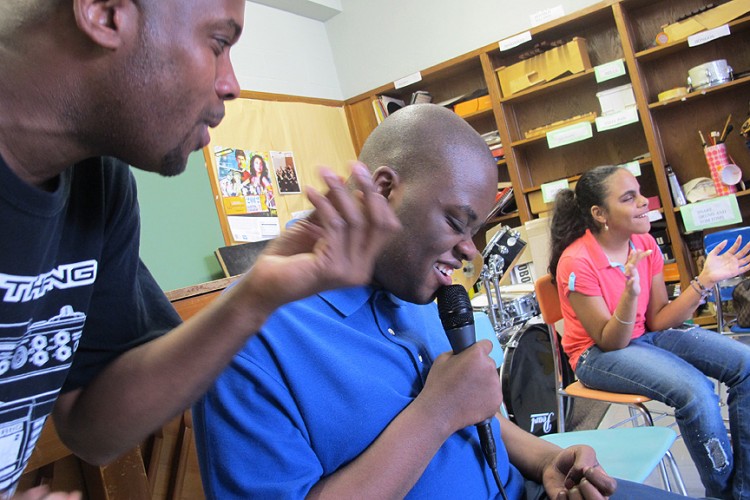 The Lavelle School offers several programs for visually impaired or blind students, most of whom also have a variety of intellectual and physical disabilities. Before I attend the BEAT session, its principal, Diane Tucker (full disclosure, Tucker is an old friend of my dad's) gives me a tour of the building that takes up an entire block. We first walk past a few empty preschool rooms (the kids are all at lunch). We go to a wing for students who may be older but are more severely disabled than others. The classrooms are spacious for wheelchairs and walkers. In another wing, a sweet black Lab greets us at the art room's entrance — he belongs to the art teacher, who's also blind. In one room we go in, the students are practicing brail. In another, they're typing and reading blown up words on computer screens. Wherever we go, Tucker says hello to each student by name, introduces me and patiently waits for their reply. One student says hi to me with a computer he uses to communicate. Some kids don't talk but reach out for a handshake.
"Because of their disabilities, our students can feel isolated," Tucker says on our way to the BEAT session. "The music makes them feel connected."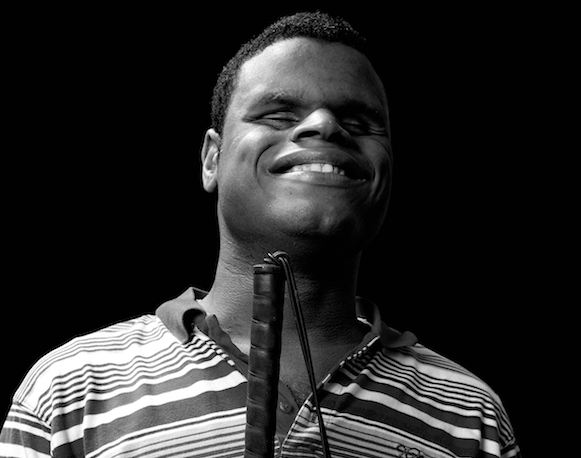 After the "Happy" jam session, everyone agrees it's a must for next week's end-of-the-year concert set list. Now, they have to pick a few more. McFerrin suggests "It's Peanut Butter Jelly Time, and the reaction is enthusiastic, to say the least. He plays that song's beat and once again passes the mic around. Each kid gets a turn with it and can do whatever he or she wants. Some add beats, some sing the lyrics, some make up their own lyrics. One kid raps. A few seem shy at first, but no one passes their turn. It occurs to me that because I'm sitting at the end of the semicircle, I might have to join in when the mic comes my way. This terrifies me. My cheeks burn just thinking about it. I sit, waiting. I'm able-bodied and self-conscious.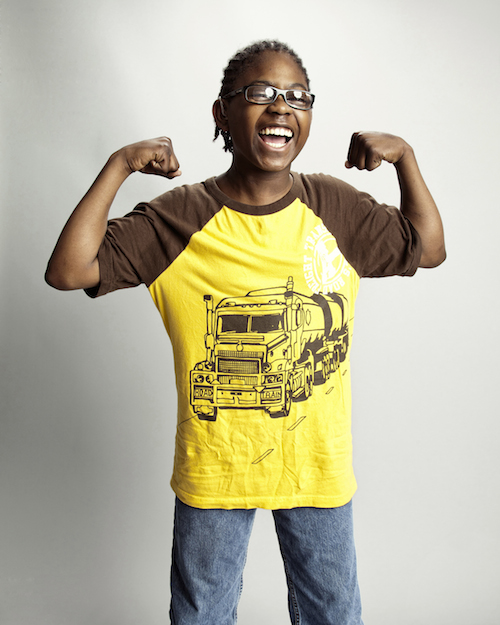 "The first time I saw blind kids react to music, the first thing I noticed was how uninhibited they were," Kim tells me later. "There's no embarrassment. It's so free. It's in-the-moment."
He got the idea for the BEAT program while DJ-ing for a Lavelle School dance in 2010. All it took was a few phone calls to his beatboxing friends to get it going. McFerrin, who could easily spend all of his time working on his own music career (His album, "Early Riser," was #1 in Japan when I met him), shows up every Tuesday and Thursday to work with the kids. He visibly enjoys himself while running the class. He doesn't speak with condescension. Unlike me, he didn't come in with preconceived notions.
He also doesn't make me participate (phew) when the mic nears my side of the circle. By the end of the session, the group has decided to perform "Happy," "It's Peanut Butter Jelly Time," and Coldplay's "Viva La Vida" at next week's performance. But in the last round of practice, somehow Sugarhill Gang Apache's "Jump On It" breaks out. No one minds.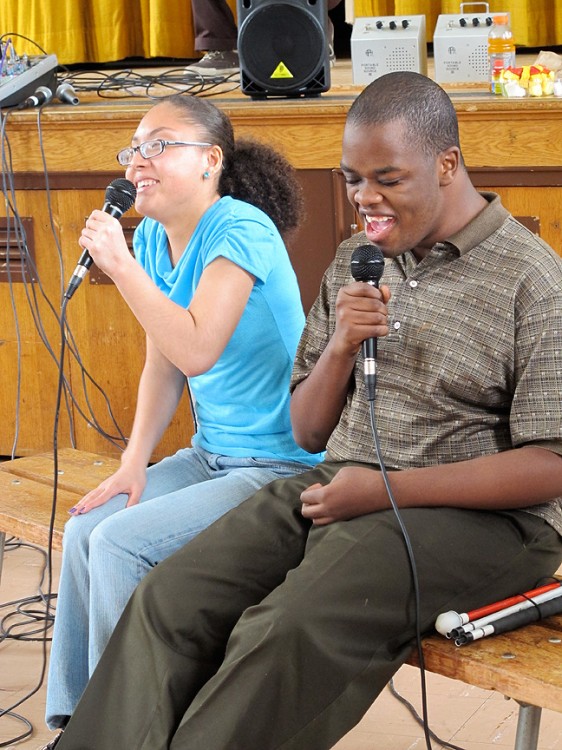 The infamous "Happy" remixer (the first student you meet in the video above) has the mic again. I later learn his  name is Revelino, but he's also known as "the Michael Jackson of the group" (Just to be clear, this means I was ready for the Michael Jackson of the group to mess up earlier just because he has a few disabilities.). He's now making a longwinded introduction for the student to his left, who's about to rap. When he passes the mic, that young man seems to freeze. But Revelino cheers him on, and the confidence boost works. He goes and goes and goes until McFerrin fades out the music.
When the students walk out of the music room, many of them are still chanting and dancing. I hear one more "Jump on it!" from down the hall as I pack up my things.
When I walk out of Lavelle a few minutes later, I'm feeling a lot of things. Impressed. Educated. Musical. Inspired.
Mostly, I feel happy.
If you'd like to make a donation to the BEAT program, head here.