Ricchina Grande, Woman With Down Syndrome, Has Wedding-Themed Birthday Party
---
Ricchina Grande loves weddings. She loves the music and the dancing, the gowns and the flowers, the people and the smiles. She loves the love. But when the receptions end and it's time to go home, the 24-year-old, who has Down syndrome, finds herself in a funk — one that sometimes lasts for days. Her mother, Janice Di Joseph, watched this happen after each ceremony. One day, in the midst of a funk, Ricchina finally asked, "When will it be my turn to be the bride?"
Her mother didn't know.
When the question became too upsetting to hear once more, Janice decided she would make her daughter a bride. You don't need a marriage to have a wedding, she thought. So she began planning a surprise wedding-themed 25th birthday for her daughter. All it would lack is a groom.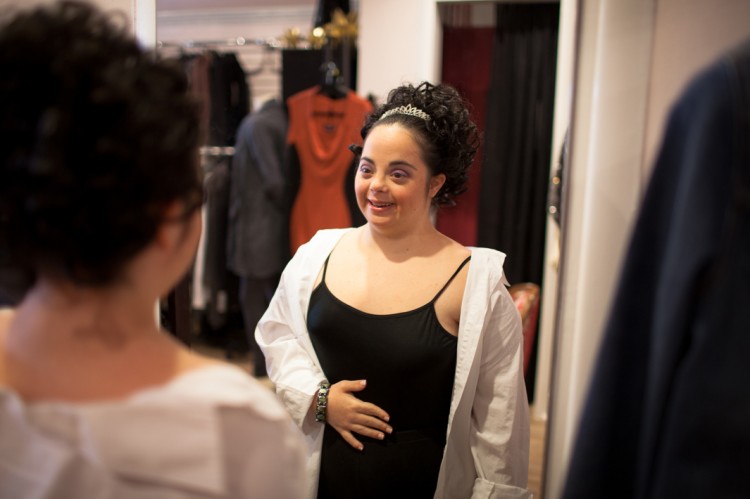 To understand Janice's love for her daughter, to understand the love that a Down syndrome diagnosis didn't waver, you have to go back a year before Ricchina was born, when Janice's older brother, James, passed away. James had Down syndrome, too, so Janice had grown up watching her mother learn about the physical and cognitive delays that come with the genetic condition. She also witnessed the joy and innocence in her brother, and saw the smiles and positivity with which he took on the world. She happily listened to him go on and on about Dorothy from "The Wizard of Oz," who he wholeheartedly believed was his girlfriend. She learned from his love, and when he passed away, she felt a level of devastation she didn't know was possible.
"It was the worst day of my life," she says. "The sadness was unbearable."
It's hard to remember you're not reading a piece of fiction or watching a movie when Janice continues telling this story. You get chills when she says that on the day that James passed away, when her family returned home from the hospital, her grandmother reminded them that it was Judy Garland's birthday. You're taken aback when she tells you that he'd always said he'd meet Dorothy one day over the rainbow. You tear up when she explains that exactly a year later, doctors brought her into a room and told her that her 1-day-old daughter had Down syndrome, too.
"God is good," she thought upon hearing the diagnosis. "He gave James back to me."
James was with Janice on her daughter's "wedding day." He was with her when Ricchina elegantly walked into a room full of friends and family and stood in disbelief for a half hour. He was with her when Ricchina got up from the dinner, hugged her close and said, "You got all my favorite foods!" He was with her throughout the mother-daughter dance.
Janice fights for her daughter. She protects her from a world she sometimes saw be cruel to her brother. But every day, like James did, Ricchina teaches her mother something.
When she was 5 years old, Ricchina stood at Janice's side while waiting for the school bus to arrive near their home in Philadelphia. It was an early Monday morning before sunrise, and a few people were still staggering home from the night before. Janice spotted a man walking by who appeared to be homeless. He was disheveled, maybe still drunk, she thought. She turned to keep Ricchina from his sight, but when he got close, the 5-year-old yelled out, "Good morning, sir!"
Janice raised her voice. "Don't talk to strangers," she said. The man turned around.
"Listen to your mom, young lady, because she's right," he said. "I'm not worth it, you beautiful angel."
"But thank you," he went on. "Nobody ever notices me. You just made my life."
Janice stood, embarrassed. She apologized profusely, prayed silently for God's forgiveness. She looked down at Ricchina, who was still smiling.
"People tell me that I teach Ricchina. No. She teaches me," Janice says now. "They tell me that I gave her life. No. She's given me a reason to live. She always reminds me of the good in the world."
h/t Slate
Want to end the stigma around disability? Like us on Facebook.
And sign up for what we hope will be your favorite thing to read at night.