Why I Best Remember This Moment
---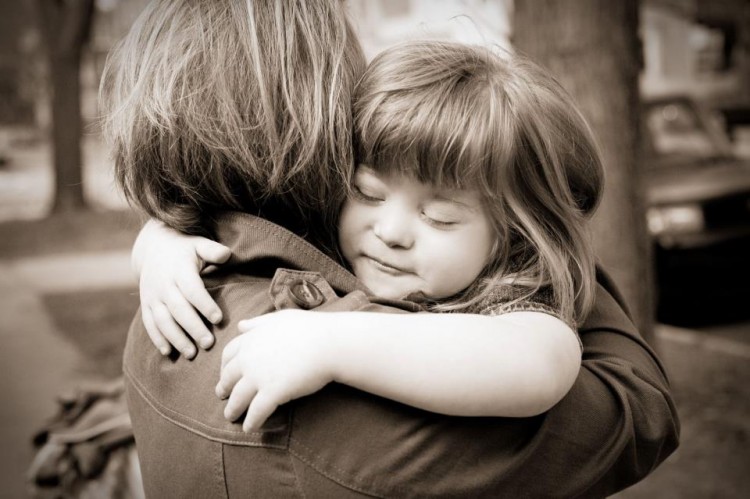 We're lying in bed together just before she goes to sleep. She has her arm slung over my body. We look at each other. Face to face. Just the two of us. I start singing a song, and Polly joins in even though she doesn't know the words. I sing, and she sings, and her relaxed attempt at joining in without knowing what she is doing and without realizing she should care sends a tickle down my throat. I break out into laughter and she joins in with that, too. We laugh until we can't breathe. Tears stream down my face. Her smile is as wide as a waxing moon. I stare at her beautiful almond eyes and think, who would want to give this up?
They say that moments make up our lives.
If that's true, then I best remember the good and the bad.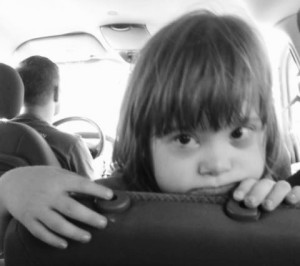 The bad: me looking away at her diagnosis of Down syndrome — her standing and falling over way past when she should be walking, a head shaking stroke in the middle of eating pancakes at Bob Evans, brain surgeries, her hand wobbly as she attempts to write her name, kids doting on her at school and then walking away to talk to their "real" friends, a little girl following us at the park asking, "What's wrong with her?" and Polly, smiley, happy Polly struggling herself as she grows and attempts to figure things out. "Kids don't like me, Mom. I'm different."
But there is more to the story. Because for all the bad moments, there are a million good.
The good: Jumping out of bed every morning, "What's going on today, Mom?" ready to accept the answer with joy and vigor, her sisters teaching their classmates about Down syndrome, Polly thanking the nurse after a shot, her hard-earned walk turning into a run, her body stopping and taking a deep breath when frustrated, the girls from her class coming to her cooking birthday party, her dash up to the front of the church to join her dad, hand raised and all, in the benediction, bothering her big sisters just like sisters would, getting up and singing to an auditorium of people, looking out for Evie when she is sad, her usual greeting of a smile and a hug regardless if she knows you or not, her little voice praying The Lord's Prayer with the rest of the family, "Give us this day or daily bread," her little hand warm on my cheek, "You are my best friend, Mom."
Moments make up our lives, right?
Then I have to remember that the bad is just life. The bad moments have a purpose. The bad make the good that much better.
Polly's good moments resoundingly beat out her bad. Oh, of course she is human; mean and selfish and sneaky. "Polly, are your toys cleaned up?" "Yes," she lies, happily running on to her next activity.
But also, there's this: she is a bell that rings daily. She was made to exude sunshine. She does her job well.
Seconds after we are crying from hilarity, she is fast asleep. She's been known to fall asleep mid-sentence.
She lives hard and well and falls asleep fast.
What more could a mother want? I must remember moments like this.
Moments make up our lives.
This post originally appeared on Gillian Marchenko's personal blog.