Photographer Goes the Extra Mile to Surprise Chronically Ill Fan
---
Photographer Benjamin Von Wong decided to seize the opportunity to make a chronically ill fan's dream come true.
A while back, Tyler Grace, an aspiring photographer from Australia, posted the following message to Von Wong's Facebook page: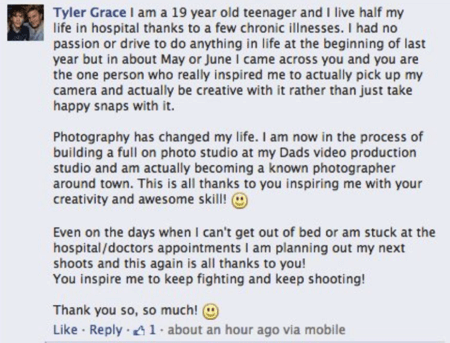 Earlier this year, Grace's sister messaged the photographer asking if he would record a short "Happy Birthday" video to celebrate her brother's 21st. Instead, Von Wong decided he'd rather go the extra mile and visit Grace for a weeklong adventure, according to his blog.
"At the time, I happened to be touring in Singapore and I thought to myself: When am I ever going to be this close to Australia again? Why just make a video when it was within my power to make an impossible dream come true?" Von Wong wrote.
Soon after, he was on his way to surprise Grace and give him a crash course in photography and adventure. During the visit, the two took a canoe trip, went to a rodeo, spoke at a conference to help raise money for the trip and partnered up for a few photo shoots. Von Wong even took the below picture of Grace and his sister.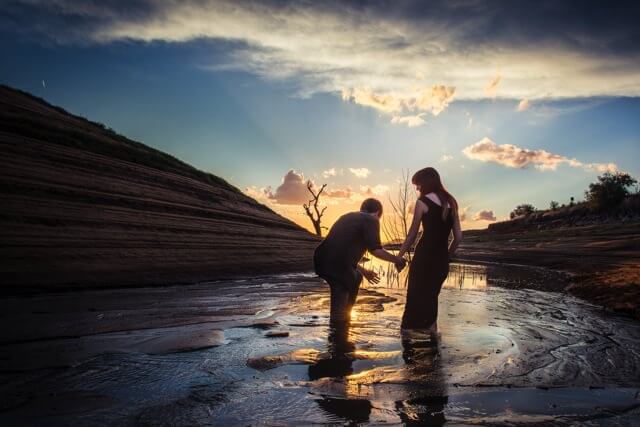 Lucky for us, Von Wong was able to convince a few friends to document their journey in the video below.
Grace suffers from a bevy of chronic illnesses. In the video he mentions fibromyalgia, rheumatoid arthritis, nerve damage, parts of marfan syndrome, sleep apnea and insomnia. Grace says that finding Von Wong's work and taking up photography are what gave him a life worth living.
"Photography actually is what gets me through," Grace says in the video. "Before that I was bed ridden for five years. I had no aspirations, no dreams. I was puttering around not really doing much."
When recapping the trip on his blog, Von Wong said that making Grace's dream come true was one of the most valuable things he could do with his work.
"I think it is projects like these that truly give meaning to what we do as creative's," he wrote. "What use is all the fame and popularity that is accumulated over a lifetime if it can't be put to use and change the world for the better?"
All photos courtesy of VonWong.com.
MORE ABOUT FIBROMYALGIA:
Fibromyalgia, a chronic illness with three main symptoms — widespread pain, chronic fatigue and cognitive trouble. Fibromyalgia is a complicated illness that's not well understood. In the past, it was mischaracterized as a mental health disorder. Even today, some doctors wave off fibro symptoms as being "all in your head." This isn't the case. Read The Mighty's comprehensive guide to fibromyalgia here. Click here to join our fibro community and connect with people who get it.