These Mommas Want You to Ask Them Why They Just Went Bald
---
Sometimes, people think Courtney Moore is sick.
She's used to the stares — the sympathetic, nervous, "What is wrong with you?" looks that strangers give her when they see that she's bald. On occasion, someone will come up and say, "Oh girl, I've been there. How are you doing?"
Moore isn't sick. For the last three years, she's participated in the St. Baldrick's Foundation's "46 Mommas Shave for the Brave" event, where she and moms from around the country voluntarily shave their heads to raise funds and awareness for childhood cancer. This is what she tells people when she gets those stares and questions. She's bald because kids like her daughter, Georgia, are diagnosed with cancer every day. And they need funding. Badly.
On December 31, 2009, 10-year-old Georgia was diagnosed with acute childhood leukemia. A doctor stood before her and her parents and began laying out a treatment plan that needed to begin that week. In the midst of medical jargon and cancer terminology, the doctor mentioned that in a month, Georgia would lose her hair. Moore noticed her daughter react to this news. She interrupted the doctor.
"That sounds funny, doesn't it? That you're going to lose your hair?" Moore said to Georgia. "But that's just from the medicine. As soon as you're better, your hair will come back. Daddy's hair is never gonna come back."
"If you want," she went on, "I'll shave my head, too. We'll be baldy buddies together."
Georgia didn't want her mom to do that — until a few months later when she heard about a St. Baldrick's head-shaving event in Austin, Tex. She liked the idea of her mom losing her hair for other kids, too. So Moore signed up, agreed to do a promo to raise awareness, and ended up making the shave on live TV. She stayed bald with Georgia for about 6 months, until her daughter's hair began growing back. Then, in 2011, she found out about the "46 Mommas" initiative and signed up for a second shave.
"[46 Mommas] is incredible in that it's all these moms affected by childhood cancer in different ways — some moms have kids in active treatment, some have kids in remission. There are mothers there who have lost a child," Moore told The Mighty. "It's inspiring to see these women who have gone through the ultimate nightmare and are still willing to be a part of the community. I always feel like if they can do it, I can do it."
Moore went on to shave her head in 2012, 2013 and at this year's 2014 shave in Boston. Each year, the participants work to raise the message that childhood cancer needs more attention and funding.
"People think all cancer is cancer is cancer, but it's not," Moore said. "It's a different animal when it affects a child. Only a small percentage of the federal budget goes toward childhood cancers."
Until that changes, Moore has no problem with people assuming she's sick. More questions means she has more opportunities to spread awareness. Georgia, who underwent 28 months of treatment — 25 spinal taps, three surgeries and endless blood draws — has now thankfully been out of treatment for 27 months. But her mom doesn't see an end to the annual head-shaving.
"It's a very powerful thing because a lot of these moms are scared to death to lose their hair. They wonder, 'How will I look? How will I feel?' I've done this enough times now to know that there's going to be a moment, maybe right then, maybe when you look in the mirror a week or six months later, when you'll go, 'Wow, I did that. I took back some of that control that I had to give up when my child was diagnosed.'"
"I'm doing something positive," Moore added. "Some people want to dwell in the tragedy and sadness. I want to move forward and be positive."
Below are photographs from the 2014 "46 Mommas Shave for the Brave" event in Boston. Moore is in the first photo. All photographs are by Connor Sumner.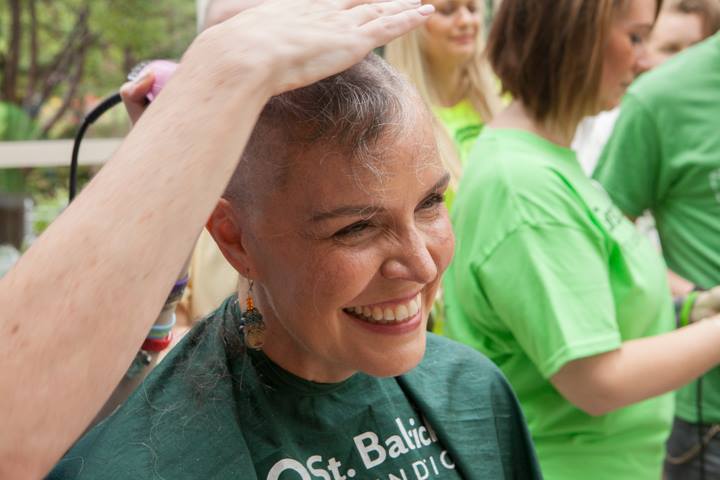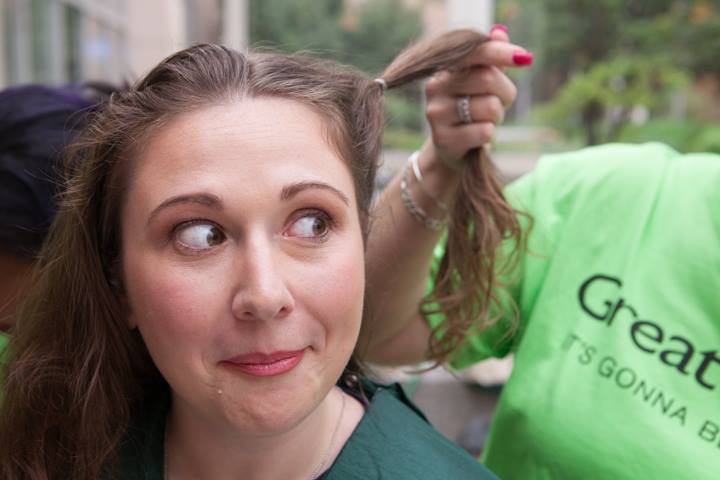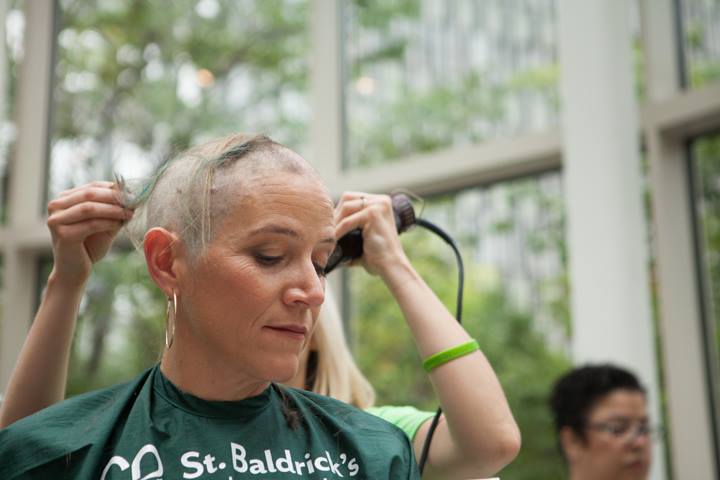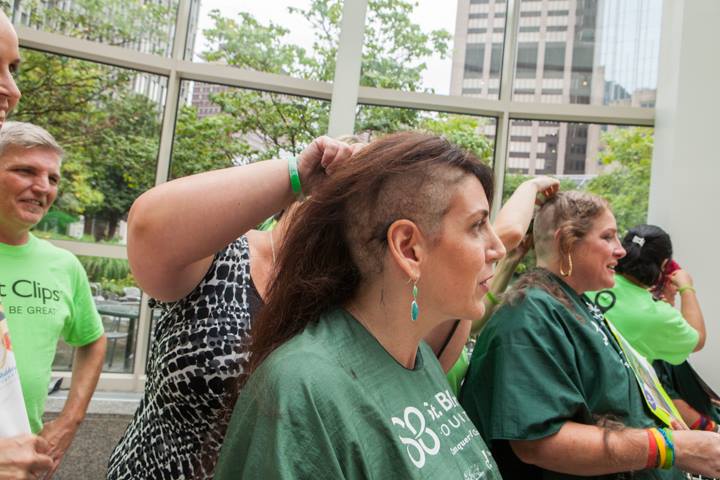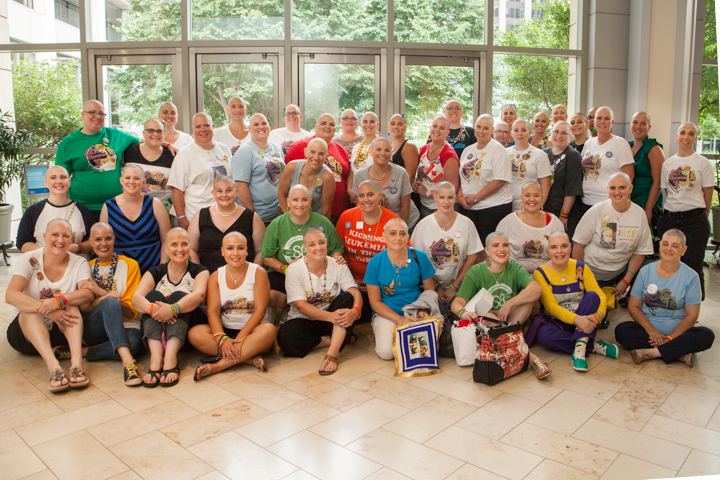 If you'd like to make a donation to the St. Baldrick's Foundation, head here.
The Mighty, in partnership with Fuck Cancer, is asking the following: Share a story about one moment or conversation related to a cancer diagnosis or experience that made an impact on you. Find out how to email us a story submission here.