Bryan Cranston Did Something Incredibly Sweet for This Cancer-Fighting 'Breaking Bad' Fan
---
Bradley Joyner is proving that no matter what obstacles lay in his path, nothing — not even cancer — will be #BreakingBrad.
The 19-year-old from Mebane, North Carolina, decided to make a "Living List," instead of a "bucket list," after he was diagnosed with terminal brain cancer in March, The Times News reported.
After seeing a doctor for headaches, Joyner was given a CT scan at Duke University Medical Center, revealing he had glioblastoma — a malignant brain cancer with a median survival rate of around 15 months, according to the American Brain Tumor Association.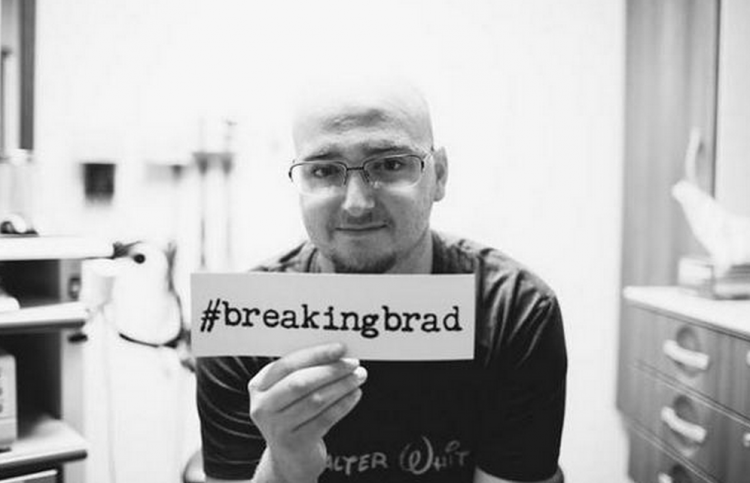 "If it's my time to go, it's my time to go. I don't want to leave everyone behind, but I know what I believe and where I'll be," the teen told The Times News. "Being mad about it, stressing out about it, is just going to make it worse."
Things on his "living list" included swimming with sharks, driving a 1967 Shelby Mustang and meeting the star of "Breaking Bad," Bryan Cranston, according to TwentyTwoWords.com.
Joyner was such a fan of the show that his family decided to create the hashtag "BreakingBrad" to get people to send him encouragement and support.
People from all over the world began tweeting the hashtag and eventually Bryan Cranston himself heard about it and contacted the family, wanting to chat with Joyner.
Watch the moment Joyner's mother, Aimee Pettigrew, tells her son the exciting news:
Joyner was moved to tears by the announcement.
"How did you do it?" he asks his mother in the video above.
"I didn't do it, people who love us and love you made it happen," she responds. "Complete strangers who read our story and just kept reading it and praying for us and it just kind of snowballed. And he finally heard. It took six months, but he heard, and when he heard your story, he said, 'I would love to Skype with him.'"
Last Saturday, Joyner got to cross off the biggest thing on his list — sitting down for a chat with his idol.
Check out some of their conversation below:
The two talked for more than 30 minutes, according to Pettigrew's Facebook page, and afterwards Cranston had another surprise for Joyner — he'd hired an ice cream truck to show up for the whole neighborhood to enjoy.
It was a sweet ending to a touching gesture by the actor, one that his biggest fan is not likely to forget anytime soon.
For more information about #BreakingBrad, or to make a donation, visit the website.
Live Mighty.

Like us on Facebook.