September 9, 2014
The Heartwarming Moment This Boy Missing Fingers Tried On His New 'Ironman' Hand
---
A 3-year-old boy, born without his fingers on his right hand, always knew he was a little different. One day he wished for what he called an "Ironman hand" to be like one of his favorite superheroes. Thanks to the kindness of strangers and some unique technology, his wish came true.
Rayden Waikiki, of Wailuku, Hawaii, was born with amniotic band syndrome(ABS). Because of his condition, the fingers on his right hand never developed. His family describes him as a happy and loving boy who thrived with his disability, according to the WPTV video below.
But when Rayden met his baby sister, he started to feel self-conscious for the first time about his differences. That's when his family discovered an exciting solution.
His grandmother, Rulan Waikiki, found a nonprofit called E-Nable, which specializes in pairing affordable 3D-printed prosthetics with children who need them. Typically, similar prosthetics can cost as much as $40,000, according to KHON. Rayden's Ironman-themed hand cost only $50 to build. It was given to the family for free thanks to help from donations, according to E-Nable.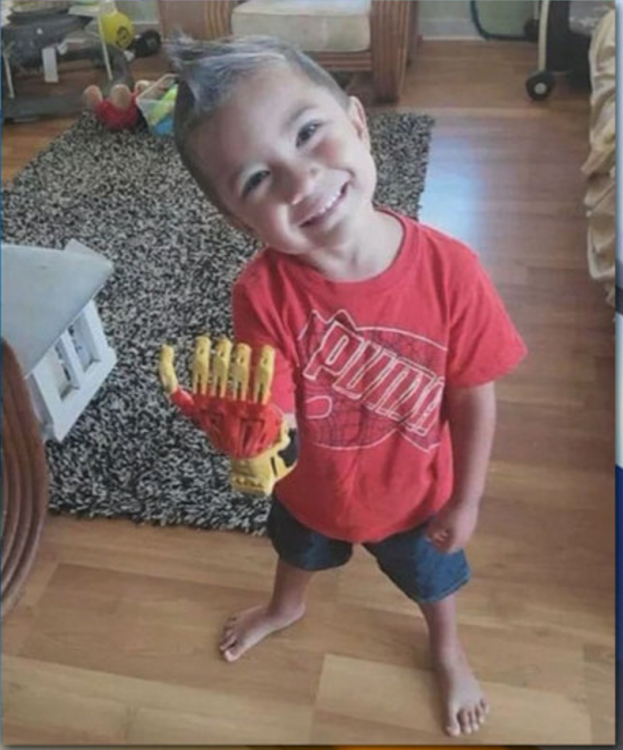 A camera caught the heartwarming moment Rayden tried on his new hand (below). His grandmother says she hopes more people will consider a 3D-printed limb for their children with ABS.
"Some of them right now are being teased in school because they don't have a hand or they're different," she says in the video. "But once they get this hand, their self-confidence is going to go through the roof."
Watch the moment Rayden tries on his Ironman hand for the first time below.