We Didn't Listen to This Advice... and That Has Made All the Difference
---
We heard it at every turn.
"She'll be fine." "What are you so worried about?" "My friend's kid didn't talk till he was 4." "She seems normal to me." "You're being paranoid." "Don't worry; just give her time."
But I knew. I knew Lila was different. She was our first child, and I still felt it was fairly evident from a very early age. Something wasn't right. She had terrible colic from the beginning and would scream for hours and hours on end. She had GI issues and sleep problems as well.
The closer she got to 12 months old, the more evident it became. Lack of eye contact, lack of response to our voices — I honestly thought she was deaf. She was never a fan of people other than my husband, Bill, and me, and she was a mess if we strayed from our normal routine.
Along this journey we were accused of "creating the problem," "self-diagnosing" and a myriad of other incredibly hurtful accusations.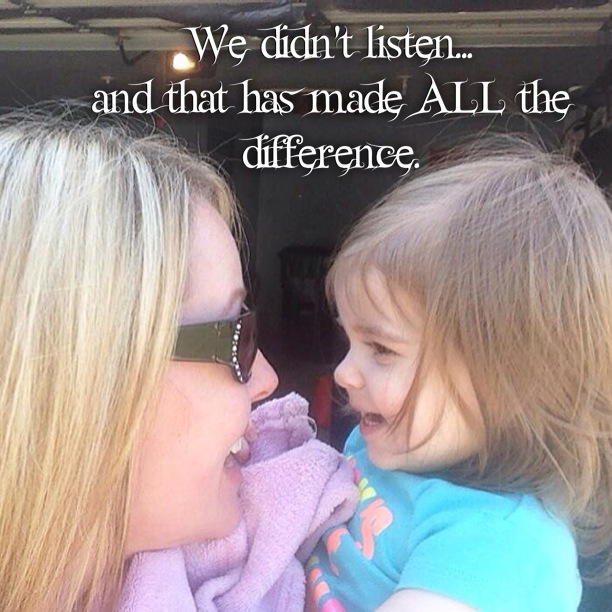 Through it all, Bill and I stuck to our guns, which was not easy to do. As a mother, nothing made me feel worse (and more "Münchausen-y") than people insinuating that we were self-diagnosing — like we wanted something to be wrong with Lila. It absolutely killed me. It would have been so much easier to bury our heads in the sand and pretend nothing was wrong. Trust me, there were times we both desperately wanted to do that.
But Lila needed us, and we were determined to do every single thing in our power in order to find out if something was actually going on with her (and if it was) to confront it head-on as soon as possible. If we were wrong… great! No one wanted that to be true more than Bill and I did, trust me. If we were onto something — Lila needed our help.
After her initial assessment, Lila started therapy with SoonerStart when she was 15 months old. At that point, she would barely even acknowledge my husband and me. She was often in her own little world. It was scary at times, when I couldn't get to her. I was terrified that we'd lost her.
She was officially diagnosed with Autism Spectrum Disorder at 21 months old.
We still have a very long road ahead of us, but we have come such a long way in the past 11 months — and we are so beyond grateful. The little girl we have now is not the little girl we would have at this point had we not stayed true to ourselves, to Lila, and worked with her every single day.
Because we didn't listen to everyone else, Lila's future was forever altered — in a positive way. Early intervention completely changed the trajectory of her brain and social development. I cannot say enough about early intervention and how important I feel it is. My only regret is that we didn't know more and start earlier.
If you know in your gut there is something different going on with your child — please listen to that voice. Don't give up, no matter what. It could very well mean all the difference for them and their future.
This post originally appeared on Dancing With Autism.
Want to end the stigma around disability? Like us on Facebook.
And sign up for what we hope will be your favorite thing to read at night.