When a Pet Shop Owner Didn't 'Get' My Daughter With Special Needs
---
I usually shop at one pet shop. The owner is awesome. She is kind, caring and supportive in the community. This one day I was in a rush and knew I wouldn't make it to her shop in time to pick up what I needed and get to my 5-year-old daughter's school for pick-up. So, I hesitantly went to a closer pet shop instead. I felt so guilty, like I was cheating on the good pet shop. But, knew it was an act of Mommy-survival. I needed to pick up two Betta fish to donate to my daughter's school for the classroom. I was in a time-crunch.
I had my 3-year-old with me, as she had just gotten off the bus from her autistic Pre-K class. She was, as I like to say, "all fired up" —  happy, wild, a mile-a-minute, non-stop chatter, singing and repeating in the car. We got to the pet shop, and I told her what we would do, as I've found routine and patterns are key. I said, "Stroller, pick up fish, get your sister." I said stroller first to prepare her for sitting to be strapped in the stroller. This is so she wouldn't run away. She looked at me and said, "Fishies?!" I said yes. I said the pattern again: "Stroller, pick up fish, get your sister." I got the stroller and she went right in – she was intrigued by where we were, as we haven't been here before. (She knows the other pet store well.)
This pet store was different: Spotless, fancy; it had a candle burning, and it even had homemade dog gourmet treats to buy. The pet store we normally go to is free-to-be. It's laid back, and the owner's cat roams the place.
Once we were inside this posh place, I found the fish, and we picked two. Betta fish are so pretty. I let my daughter pick the fish, and she did so by color: "Blue and red." Simple and easy enough. Or so I thought.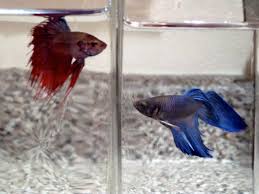 Betta fish are deceiving. So pretty on the outside. So fancy. But put one in tank or bowl with another Betta fish, and they will fight until one of them dies. Not. Very. Nice.
I put the Betta fish on the counter to purchase, and next to the register was a bird cage. The bird  inside of it was carrying on. My daughter was scared and fascinated all at once. She didn't like the bird making that noise and told the bird how she felt: "No, bird!" "No, bird!" "Stop!" She then did these brief yells at the cage as if it would make the bird stop  chattering. The owner came to the register and said — appalled — directly to my daughter with her finger pointed out, "No! You can't do that! You will kill her! She could have a heart attack or a stroke! You can't scare birds like that, now please stop it!" I was immediately annoyed. Do I have to get into a fish bowl with you, lady? Because I'm suddenly feeling like our friends "Blue" and "Red" here.
I immediately shifted my tune because of my daughter's response. She just yelled louder, which was at the moment, comical to me, because she knew this lady didn't "get" her. I said to the woman, "My daughter doesn't understand a word you're saying to her. She has special needs. She isn't doing any of this to intentionally hurt your bird. I promise you. If you can ring us up, we'll be out of here."
She then said, "Really? She doesn't look sick. She's beautiful. She doesn't look at all like a special needs child. She looks fine! She talking and  looking right at me!"
Now I'm really getting all Betta…
I hear this all of the time, and it's so offensive. I know that people mean no harm but what exactly does a special needs child look like? Are they supposed to not be cute? Are all autistic children exactly the same? It kills me when people say this. Kills me.
She then said, "The bunny behind you is really tough, nothing bothers it, if you want to put her in front of the bunny yelling instead."
At this point, I'm just completely entertained by this whole experience. The woman then started to talk low and soft to me, as if she is trying to console me and keep my secret.
"You're daughter is just so beautiful. What's wrong with her exactly? I will pray for her."
I asked the woman how much the fish are and paid her. She gave me an informational sheet on her store and said to "Like her store on Facebook." (Oh. My. Goodness.) Behind me I heard my daughter talking to the bunny. It was really funny. She threw her blankie at the cage, and the bunny was just staring at her. What no one realized was that my daughter was actually being sweet. Giving her blanket to any person or animal means she likes you. She was trying to give the bunny her blankie.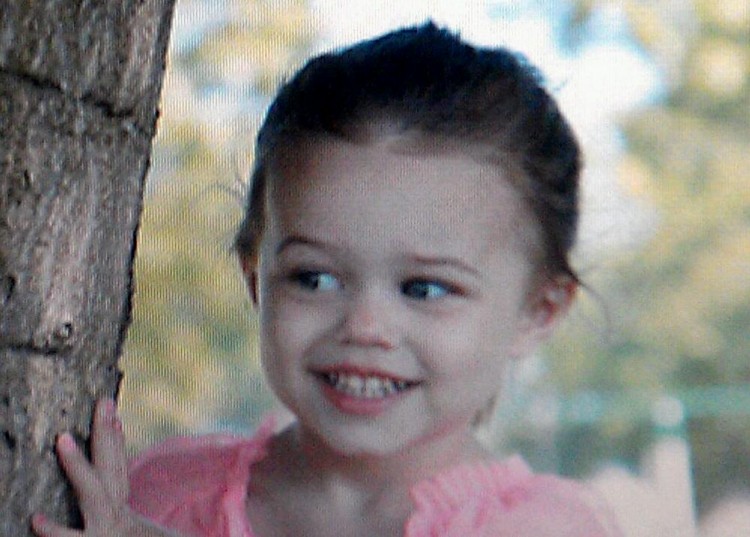 I turned to my daughter and said, "Ready to get your sister?" and she screamed in delight "Yea! Sisters!"
The owner than said to me, "Now remember, those Betta fish can't be together in the same bowl."
I had to bite my tongue as I wanted to say to her, "Neither can you and I, sweetheart. Neither can you and I." But I nodded my head and smiled and walked out past a lit candle ironically named: "Peace."
This taught me two good lessons: 1. There are a lot people who still need to learn about special needs children and families and 2. Only shop at the pet store with nice lady and free-to-roam cats…
Lesson learned.
This post originally appeared on Addie's 4Ever Friend.
Read more from Samantha Gill on The Mighty:
Why I Let My Daughter Rearrange the Chairs in the Waiting Room