Striking Photo Series Challenges Any Single Definition of Beauty
---
In the photograph below, Emily Sciarretta is singing on the Brooklyn Bridge. Next to her sits her service dog, Carmel. Beneath her is a motorized wheelchair. Behind her is the Freedom Tower. In front of her is photographer Sandra Arenas.
Sciaretta is focusing on her music and the empowering feeling she experiences as she sings it for passersby. When Arenas takes the picture, she doesn't capture a woman with a disability sitting on a bridge with a dog by her side and a famous building behind her.
She captures a beautiful woman sharing her passion with complete strangers.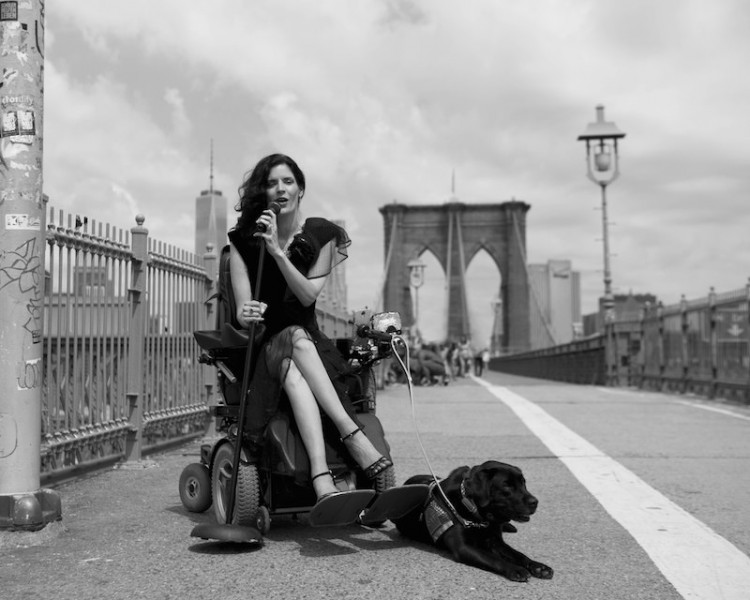 The photograph is part of the Raw Beauty Project NYC, an endeavor challenging the conventional definition of beauty by featuring women living with disabilities in a photo series. It went on display on Sept. 20, 2014 at the ACA Galleries in New York City.
Sciarretta, 41, was one of the 20 women selected for the initiative. She lives with an Arnold Chiari malformation (a structural brain defect), Ehlers-Danlos syndrome (an inherited disorder that affects her connective tissues), a heart condition and a laundry list of diagnoses that challenge her every day. She wanted to model for Raw Beauty to show that she still finds beauty in life and in herself.
"Your diagnoses shouldn't define you; you define you. That's what this whole organization taught me," Sciarretta told The Mighty. "I have so many diagnoses attached to me, but that's not who I am. It's what I do that matters."
The project's proceeds went to the Christopher & Dana Reeve Foundation. Visit its website to see the full photo series and scroll down to view a few we've selected for you.
Wendy Crawford, who co-chaired the NYC event with  Susan Solman, modeled in the first Raw Beauty exhibit in Miami in 2006. When she was 19, she was in an accident with a drunk driver and subsequently became a quadriplegic. She's since worked to advocate for women with disabilities, given a powerful TEDx Talk on what it means to be beautiful and founded mobileWOMEN.org, an online magazine for women in wheelchairs. The Raw Beauty Project aligns perfectly with her goals.
"I think we all look at the outside world to define us," Crawford explained to The Mighty. "You look at a magazine and say, 'Oh I should look like this.' But to see the Raw Beauty models feel beautiful for who they are and be able to welcome and understand and be empowered by that, it works to increase our own self-acceptance and confidence — and the acceptance of others."
Emily Ladau, a 23-year-old Raw Beauty model, hopes that when people see the photographs, they realize the project is more about beauty than disability.
"Disability doesn't detract from beauty," Ladau told The Mighty, "and we need to expand our definition of beauty because it's actually all around us."