October 8, 2014
The Letter I Think My Son With Autism Would Write Me If He Could
---
Dear Mom,
Sometimes I get sad. I communicate but not with words. When I tell you things in my way you don't understand, and I get mad. I wish I could tell you things in a way you could understand. I know you feel so much too, Mom. We're the same that way — but my ability to feel is like yours times a million. I feel lights and sounds and energy and smells and touch — sometimes so strongly it's unbearable. Sometimes things feel so loud that I scream to make it more quiet in my head. You think my screaming is loud, but it's nothing compared to what I can hear with my ears. Sometimes I feel so much that I feel like crawling out of my skin. I feel intensely — so intense it sometimes flies off my finger tips while I'm shaking my hands.
I want you to know I'm happy, Mom. My mind has never worked any other way; I don't know any differently. Although my happy doesn't look like yours, I am happy. I don't need the things you do to be happy, like words and eye contact and kisses and new clothes and hardwood floors. I need so much less.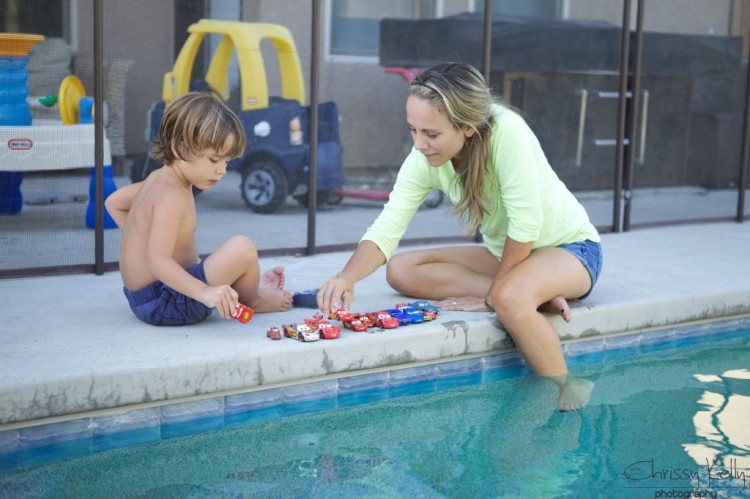 My cars make me happy. The pool makes me happy. No clothes makes me happy. Dad makes me happy and feel so safe. He spins me and gives me squeezes, and he loves me more than he's ever loved anyone in his whole life, besides you and my brother, Parker. My autism broke his heart wide open, Mom. See, it isn't all bad.
I hear you talk. Even when you think I'm deep inside my head, I hear you. I'm with you. Sometimes when you're rocking me you say, Greyson, I love you so much. I know you are in there. I'll never give up on you. And you put your hand on my chest and you feel my heartbeat and you cry, because you're afraid I don't know that you love me. I want you to know, Mom — I know. I felt it from before I was even born. I feel it every day in every touch, so much love it's almost unbearable — tofeel that much love.
I'm sorry I don't play Little League or want you to read me bedtime stories or call you "Mom" out loud. I'm sorry that sometimes things are hard for both of us. I'm sorry I'll probably never get married or become a lawyer or give you grandchildren. I'm not on earth to do any of those things though, so it's OK. Life would be so boring if we all did the exact same thing. I hope you feel happy with however I turn out to be. I'm here to change the world. You're helping me, and that makes me so happy that I just want to flap my hands.
I think people should love the gifts and lives they've been given and not feel sad about them too much if they can help it. I think we all have the exact life we're supposed to, and it's up to us to find the beauty and lessons inside. People think kids with super powers have a lot to learn — I say typical people are the ones with a lot to learn — like looking on the inside and loving what is instead of being afraid of what isn't. There's a lot to be said about loving just a few uncomplicated things in life… like the beach, or plants or water or spinning.
Mom, I want you to know I love you too. I'm sorry I can't tell you in words, but I do tell you all the time in the ways that I can. I know you can feel it. Love that big can't be hidden or unfelt.
Mom, will you tell all the other moms of kids with super powers that this letter could have easily been written by their baby too?
Keep writing to make the world a sweeter, kinder, more aware place. I think it's part of the reason why we're both here on earth. Most of all, when it comes to me, always believe that absolutely anything is possible.
Love,
Greyson
This post originally appeared on Life With Greyson + Parker.
Read more from Chrissy Kelly on The Mighty:
The Letter I Wrote the Day My Son Was Diagnosed With Autism
The One Thing Bigger Than the Diagnosis
I Couldn't Change My Son's Autism, but I Could Change One Thing