Why I Need to Help a Man I've Never Met
---
Once in a while, I think about an elderly man I saw only for a split second.
I was 18 and in a pizzeria with three friends in Manville, New Jersey, and he sat about four booths away from us. We passed him as we went to sit down. He was old and quiet. When I play the quick memory back, I give him a kind face, but truthfully I don't remember what he looked like. He had an out-of-sight-ness about him that made him easy to miss.
Until, of course, he paid for our meal.
"It's taken care of," the cashier told us when we went up with our money. He pointed to the now empty booth. We had no one to thank.
That man saved me maybe seven bucks. But six years later, I still think about him. And every year I grow more certain that he did in fact have a kind face.
His image flashed in my head the day an email — subject line: "Suspended Coffees" — popped up in my inbox while I was working at The Huffington Post. A man named John Sweeney had sent it. He wanted me to do him a solid.
I put it that way because while most PR emails come off like infomercials, bribes or self-indulgent promotions, John's came off like an old friend asking for a favor. He wanted to get the word out about a campaign he'd started, where you buy a coffee at a café and "suspend it" so if someone else comes in later without money, they can have a cup for free. It wasn't a new concept. It was an old concept, actually. Pay it forward. John made it seem larger.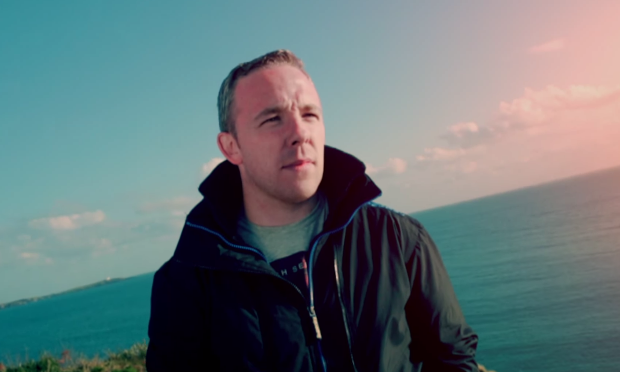 John is 29 and lives in Cork, Ireland, with his four children. When we first began talking in December 2013, he'd recently lost his job. Suspended Coffees wouldn't give him an income, but he pursued it anyway. In just over a year,
more than 1,000 shops in 24 countries signed up
to display the Suspended Coffees sticker to let customers know they were participating. The
campaign's Facebook page
raked in more than 270,000 followers.
I pressed John during our first interview — why would an unemployed father of four devote his time to doing anything but searching for a job?
"I figured out a simple way to make someone's day," he said. "I have to do it."
When I later joined The Mighty, I emailed John to let him know because those words now rung true for me, too. A website devoted to finding the beautiful moments that tend to strike after tragedy. A place to turn a diagnosis, an accident, a death into something not-so-horrid. A simple way to make someone's day better, even for a split second. I have to do it. John saw its importance. Within an hour, he posted one of our first articles to the Suspended Coffees Facebook page. A friend returning a favor.
I'll probably never meet John. But this time, I have the opportunity to say thank you. Because it's occurred to me that through Suspended Coffees, John's created thousands of versions of that old man in the pizzeria. Quiet, out-of-sight people with kind faces who have figured out a simple way to make another person's day.
I hope, in the last six years, someone (or many someones) took the time to do something small but kind for that elderly man I knew only for a second. I never got my shot. So instead, I'm paying it forward to John, an old friend I'll probably never meet in person. My Suspended Coffees donation is now neither quiet nor out of sight. It's the opposite, actually. But I hope it inspires anyone reading this to think of a way to make someone's day.
Even if it's just for a split second.
If you'd like to make a donation to Suspended Coffees, head here. You can also like them on Facebook and learn more about their cause in the video below.