November 20, 2014
I Know a Real-Life Ms. Frizzle
---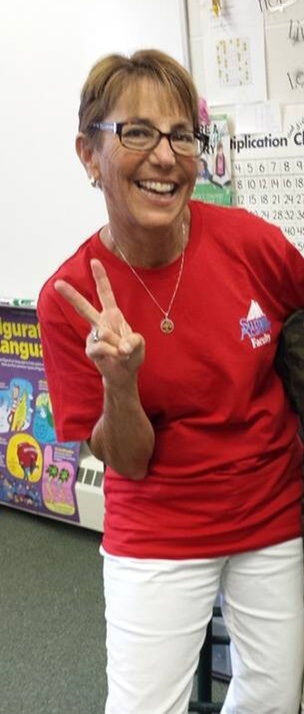 The media like to report on the negative experiences of special needs children with teachers. We don't hear as much about the positive impact just one teacher can have on students. What happens when students do get the support they need, and then some? What happens if a teacher is like Ms. Frizzle from "The Magic School Bus"?
I'll you what can happen because I've experienced it. Except the teacher's name isn't Ms. Frizzle — it's Mrs. Strong (but she really does have red hair). She also has a classroom lizard, named Maxine (who was originally thought to be a girl – hence the name Maxine. It turned out to be a male lizard but the name stuck).
Mrs. Strong is a fourth grade teacher at a small private pre-K to eighth-grade school for kids with learning differences. There are students with dyslexia, ADHD, autism, auditory processing disorder, etc. They are the students who often fail in the public school system because of their learning differences. My identical twin sons have attended since kindergarten – one of them is in currently in fifth grade and the other in fourth (long story). Because of this, one twin was in her class last year, and the other has her this year.
Towards the end of the last school year, I nominated Mrs. Strong for the Kentucky Teacher of the Year award. She didn't win, but she should have! I would like to share her story because I think these stories should be just as common as the negative ones. Below is the letter I wrote on her behalf.
I'm the parent of a student in Mrs. Strong's fourth grade class at a private school for students with learning differences. My son has a diagnosis of autism spectrum disorder and has attended this school since kindergarten. While he has had many fantastic teachers at this school, the change we've seen in him since the beginning of this school year is amazing. Mrs. Strong has high expectations of her students' abilities and pushes them to do their best. They've stepped up to the challenge because they don't want to disappoint her. I've seen my son go from someone who argued consistently about completing his homework to someone who comes home and completes it on his own. My sentiments on his maturity this year is echoed by the parents of his classmates when we discuss our children's successes.

What sets Mrs. Strong apart from other teachers is the involvement she has with her class that goes above and beyond any teacher we've ever encountered. I'm going to highlight some of the hands-on activities that have inspired her class.

A powwow to commemorate the end of the Native American unit. They played games using wampum for money, had a bonfire and discussed the traditions of various tribes. They also created masks with their Native American name, which were displayed in the school lobby throughout the year.
A sleepover at school just for her class where they baked holiday cookies in the school kitchen, played flashlight tag and slept in the auditorium. For many students, this was the first time they'd ever slept away from home.
A living wax museum following the explorers unit. Each student chose a explorer, researched them and came to school dressed as their explorer. They then delivered a speech to visiting students to the "wax" museum. The impact of this was huge; not only did the students get really into their characters (and their classmates) but it enabled them to practice public speaking skills. Many of the students have social/communication impairments but stepped up to this challenge and even enjoyed it.
In science, they incubated chicken eggs and installed a live webcam so the students could monitor the progress. After they hatched, they had a chick derby to find out which chick was the fastest. They were then returned to the farm that provided Mrs. Strong with the eggs.
Her class participated in Make-a-Difference Day and stayed after school cleaning up the school grounds. Again, this was the first time many of the students engaged in manual labor, and the sense of pride (along with blisters) was fantastic to see.
For the American Patriots unit, they designed dish-soap-bottle patriots. The students had a great time researching/creating their patriots and presenting them to the school. By this point of the year, many students who struggled with public speaking felt much more comfortable.
Mrs. Strong taught her students how to fly kites — again a experience that some had not encountered before due to motor planning impairments. They also learned how to jump on pogo sticks to help with balance issues and take Maxine the class lizard for a walk outside on a leash among many others.
On the weekends, it was not unusual to see Mrs. Strong at events to support her students. She's supported her students in the school drama club, which is where several students found their voice following the wax museum presentations.

Every time I talk about Mrs. Strong with parents of former students, the sentiment is the same – Mrs. Strong was the most influential teacher their child ever had. It takes a special person to teach and an even more amazing person to inspire their students. The school adapts teaching styles to the unique needs of each student, and there's no better embodiment of this than in Mrs. Strong's class. Instead of frustration, disappointment and bitterness, Mrs. Strong's students are celebrated and inspired. I'm confident that my son is on a fantastic journey to highlight his abilities, not his disabilities. Mrs. Strong is one teacher that every student should have in their lifetime.
This post originally appeared on Autism Odysseys. 
Want to end the stigma around disability? Like us on Facebook.
And sign up for what we hope will be your favorite thing to read at night.