To the NBA Player Who Didn't See My Son's Disability
---
Dear Gerald Wallace,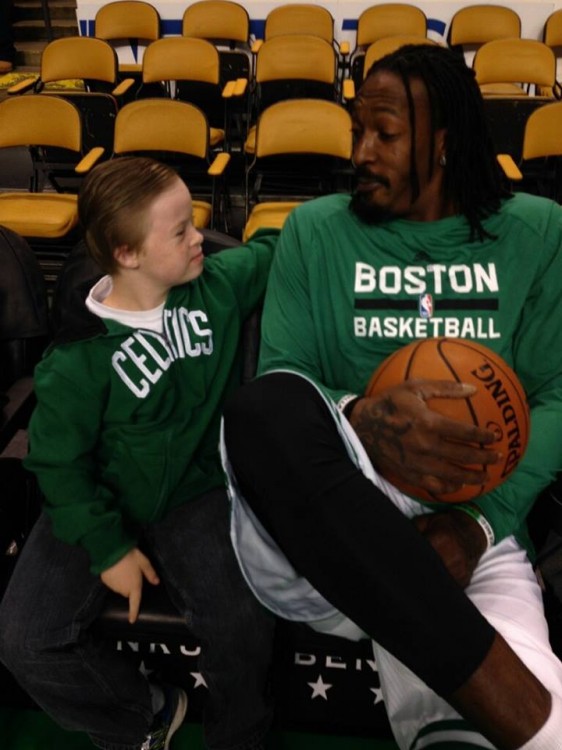 Thank you for sitting and talking with my son, Davis. Although, for you, this was just a moment in time before heading off to your work as a basketball player on the Boston Celtics, for us it was a glimpse of our boy living his dream.
I don't know if Davis mentioned it or not, but he wants to be a professional basketball player too. Although the slim odds for making it into the NBA would discourage most, Davis will not be deterred. His optimism is one of his best qualities.
This may be one of the most challenging things about being Davis's mom. How do I encourage his dreams, knowing that his aspirations are beyond his reach? Do we get to a point when we're sitting at the table when he's 30 years old and he's finally acknowledged it isn't going to happen? Or will we still be talking 20 years from now about what round of the draft he'll get picked in? Does it matter to him? Does it only matter to me?
I know our society doesn't value individuals like Davis, slow in mind and body, but Davis doesn't know that. He knows our society values professional athletes, and so he plans to join your ranks, not only for love of the game, but for its reward as well. Did he tell you about the mansion he's planning to build with his NBA salary?
So as we navigate the terrain of guiding this child as he grows, we thank you for giving us a story to sustain his dreams and bridge the gap. We'll talk of the time when he sat with Gerald Wallace, and shot a hoop or two, and hope that gets him – and us – close enough.
For all of November, The Mighty is celebrating the people we don't thank enough. If you'd like to participate, please submit a thank you note along with a photo and 1-2 sentence bio to community@themighty.com.
Want to end the stigma around disability? Like us on Facebook.
And sign up for what we hope will be your favorite thing to read at night.