November 19, 2014
Our Blended Family Introduced Me to the World of Autism
---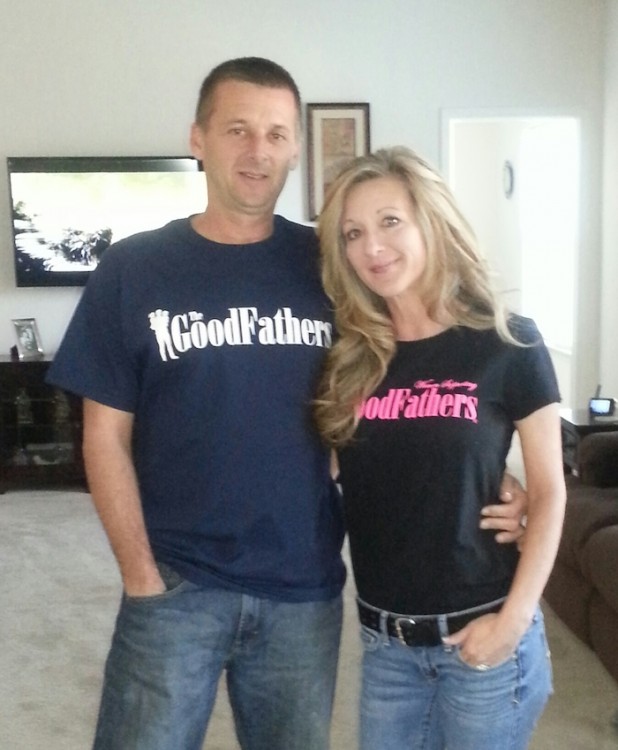 I always wanted a simple life.
I raised my son, Brian, alone for eight years without the help of his biological mother; it was tough at times. Looking back through all our struggles, I wouldn't change the time of frozen meals and Saturday morning wrestling matches for all the money in the world.
I wasn't looking for love — actually, I figured I wouldn't meet anyone until my son was in college. All my time and effort was going into raising him to be a good person. When my son turned 10, I unexpectedly fell head over heels in love with Lisa, a single mother raising her young son, Nicholas, who has autism. I had no clue what autism was, let alone how to connect with Nicholas. I had to find ways to enter his world, which required great persistence.
In 2014, I married Lisa, and we became a blended family. My determination to enter Nicholas' world paid off. The payout has been a bond — one I could have never imagined having with a child that wasn't mine. Nicholas and I don't have long conversations since his speech is limited, but sometimes words don't need to be spoken. Sometimes you just connect with someone.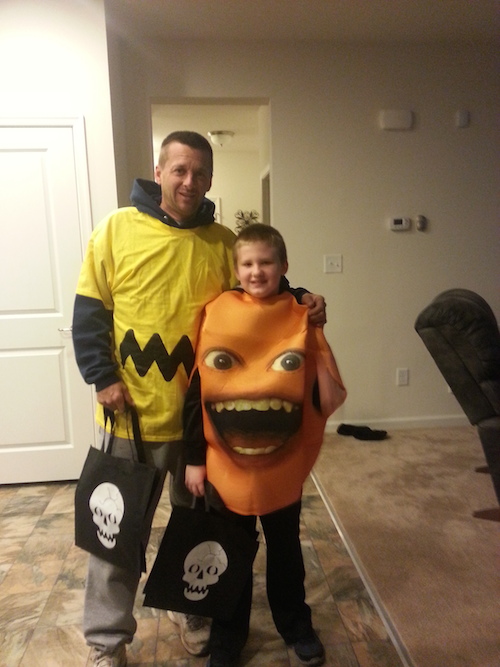 Halloween 2014. Nicholas wanted to go trick-or-treating as the "Annoying Orange." He said, "Frank, you be Charlie Brown." Nicholas was a little apprehensive about going house to house, so I got my own Halloween bag, put on my Charlie Brown shirt and stood right next to him with my bag open collecting candy. We got a few odd stares from the neighbors we didn't know (wondering why a grown man was collecting candy), but Nicholas was happy, and that's all that mattered. I never care what others think about us. Nicholas is a person too; he deserves to have a happy Halloween just like all the other children in the neighborhood.
Brian is no longer my only child, but he took on the role of a big brother effortlessly. Brian is Nicholas' best friend and partner-in-crime. Brian doesn't need a lot of words from Nicholas either; he communicates for the both of them, and in turn, Nicholas trusts and adores him. It's a dream come true, to meet the partner of your dreams and have your family blend so perfectly.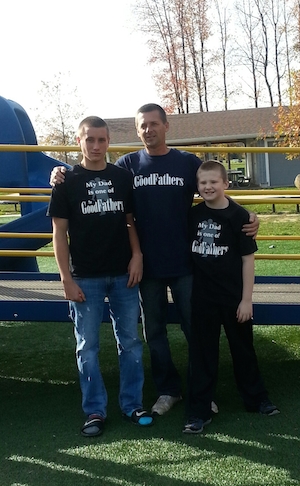 The simple life I thought I always wanted is far from where I am now. Autism has taught me about meltdowns, sensory issues, speech delays, wandering — the list goes on and sometimes changes daily. We now adhere to schedules and giving Nicholas advance notice to prepare for upcoming outings. Autism has changed my life, but I love my son just the way he is. His pure heart and innocence is something you don't see in many children.
Promoting fathers to step up and celebrating the ones that do have become an important part of my life. With the partnership of a few good dads, www.thegoodfathers.net was started. Our mission is to encourage the relationship between a father and child. Our goal is to recognize the men who make a difference in the life of a child, not just today but every day. We're selling T-shirts
The Good Fathers supports St. Jude Children's Hospital as a Partner in Hope and TACA (Talk about Curing Autism.) A portion of every sale benefits both of these charities. Our goal is to have the website go live Friday, Nov. 21. We hope to promote our mission and help children in need.
Want to end the stigma around disability? Like us on Facebook.
And sign up for what we hope will be your favorite thing to read at night.