Ah, the holidays…
They always end up being so hectic and stressful. Add a child with autism in the mix and things become even more chaotic. I wrote to our therapist about my daughter, Lila, and Christmas. The truth is, the gifts mean nothing to Lila. She couldn't care less. Know what she wants for Christmas? Her balloons and ping pong balls and for Mommy and Daddy to be at home playing with her.
We all have these preconceived ideas about the holidays and what they should look like. Baking cookies with our children, watching their eyes light up while we explain Santa and the reindeer to them, listening to Christmas music, decorating the tree together, having a picture taken with Santa, looking at Christmas lights, visiting family, all while our perfectly wrapped presents sit under the tree. And we don't stress – we just enjoy the holiday season, right?
Is that really how it is for anyone? I have my doubts. You know… we've already re-arranged our entire lives for Lila and her autism, but for whatever reason, it never occurred to me we could flip the script on the holidays as well. Our SoonerStart therapist, Janet, sent me the following in an e-mail. I genuinely believe it's something all parents of children with special needs should hear, so I wanted to share it with you:
There are so many social norms and expectations surrounding the holidays. It's like there's a big book of items that are stereotypical and everyone feels if they aren't ticking off a certain number of them, they aren't doing it right. So many holiday things are hard for people with ASD. Different foods/cooking smells, longer travel times to infrequently visited homes with unfamiliar people and a different schedule, things you can't touch, sitting on Santa's lap, opening gifts, more shopping trips, all the forced social interactions, I could go on and on…

This is a great opportunity to ditch all the "normal" expectations and start to develop BETTER, new, fun ways for you all to do the holiday thing. Free yourself from all that garbage and follow her lead. You can celebrate in an AUTHENTIC and true way to your family. Your special twist on things will mean so much more to her than ANY gift. It's kind of exciting and freeing isn't it – to get to rewrite the book and tick your own things off? You are going to have a much better time than a lot of "normal" families. Makes you almost feel sorry for them… ????
So, please take that advice and do as you wish with it. I hope it helps you and your families like it has helped me. Our holidays won't ever be what typical families would consider normal, but maybe – just maybe — they will be even better. Happy Holidays and much love to all of you and your beautiful, different little families!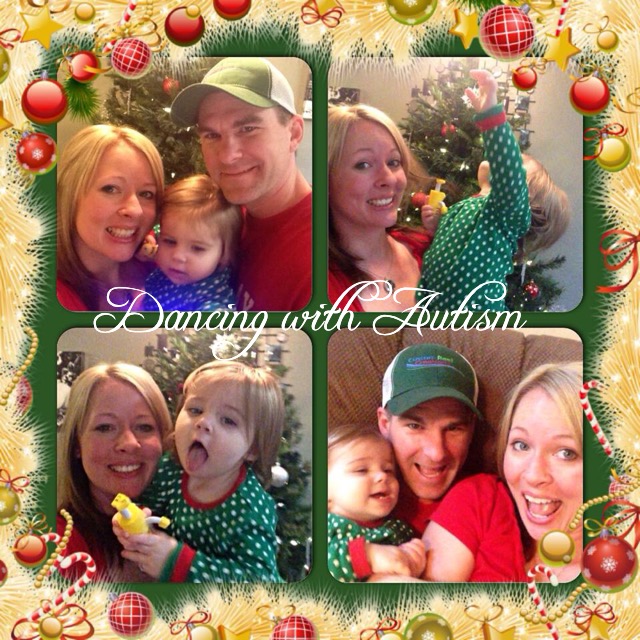 This post originally appeared on Dancing With Autism.