There are so many people who've come into our lives along our journey through autism — doctors, teachers, therapists and support staff — each person touching our lives in a different way, adding to our experience, guiding us, adjusting our learning curve and offering support. It would be hard to name all these wonderful people. But I attempted to make a list. And as I was adding name after name, I noticed one person's name appeared multiple times. I suppose it was because as my mind rolled through our journey her name kept reappearing.I felt compelled to share her with you.
It's taken me a long time to write this, to digest the emotions, to find the words. Having children is a blessing — a challenging, life changing blessing. Having my son, Liam, has been the most intense, amazing journey I've ever been on, and trust me, I've been on some awesome trips. He's inspired me in ways I didn't know another human being could. Like every other parent, the love I have for my son is my driving force. And, like most parents who seek out professionals to help their children, I look for providers who are as passionate and dedicated to their work and clients as I am to my son. We have been blessed with some amazing support along the way.
Last year, I was in a battle for services for my son. He needed a specific kind of therapy, and his school district would not cover the expense. Our private insurance denied coverage. It seemed like there were road blocks and barriers at every turn. The fight for services, coupled with daily life, took a huge mental and emotional toll on me. It's difficult to know your child needs something and not be able to provide it. It was a dark time, and I wasn't always sure how things would turn out. I kept pushing. That's not a pat on my back. I kept pushing because one person continued to make it possible — my son's board certified behavior analyst and owner of his therapy center. 
Even now, I'm not sure she realizes the impact she's had on my son, my family and on me. I'm not sure I'll be able to fit it all in one entry. Her passion and abilities as a therapist gave Liam a skill set he didn't have before. For the first time ever, he was happy to go to school, happy to engage and we saw a decrease in behaviors which had limited him for so long. As a mom, it's hard to see your child struggle in almost every aspect of life. The flip of that is it's so much sweeter and life-changing when you see the same child cross hurdles and accomplish things he'd struggled with for so long. It wouldn't have happened without Alicia. I'm sure of it. I will forever be thankful.
She wasn't just his therapist. She owned the clinic. Liam needed a placement I couldn't afford. I was determined to do it, but I didn't know how. She worked with us, crunching numbers, finding ways to fund his program. There were days I thought, "He's not going to be able to keep going. We owe too much. She's a small business. She can't afford to let us owe this amount of money." (At one point, thousands — we owed thousands.) I worried about it constantly. There were many sleepless nights and days of fog worrying about paying his therapy bills. I waited for the phone call to tell me he was going to half a day — the call that would end his services. It was a call that never came. She allowed me to pay as much as I could as often as I could, and his services weren't interrupted. I will be forever thankful.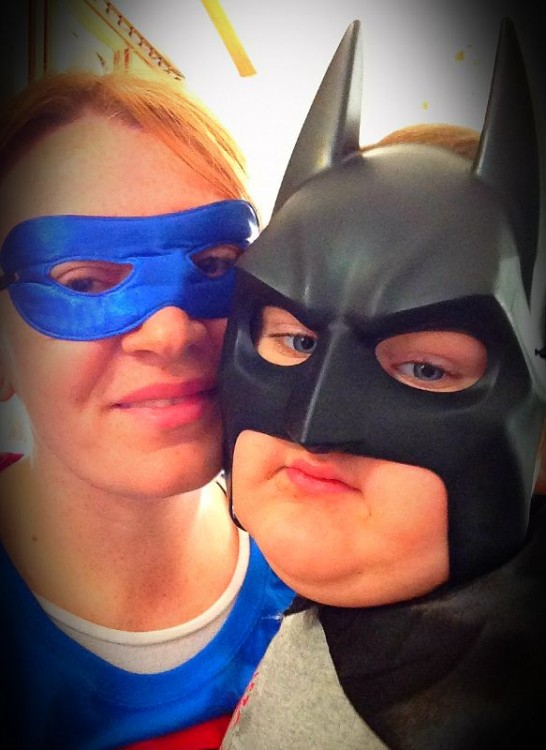 As if teaching Liam and allowing me a more than generous payment plan weren't enough, last winter, she read a blog I'd written about a failed birthday party. As many of us know, birthday parties for our kids can be a challenge. She offered to help me give Liam a birthday party. I won't ever forget that. I was pushing a grocery cart, talking to her on the phone, when she said, "I want to help you give Liam a birthday party." I cried. This person, a therapist who I'd known for such a short time, offered to help me give my boy a birthday party. It was priceless. I've yet to write about it, but fully intend too. I'll save the details. Just know, a group of parents and kids were surrounded by support, the staff from the party location, behavioral therapist, and had a wonderful time — all because of her willingness to help. Another reason to be forever thankful…
When I was looking for a house, she gave me leads. When I was looking for a job, she helped me find one. I could talk all day about what this woman has done for my family and for me. But, for now, I'll just say thank you, Alicia. 
Thank you for being a smiling face, a warm heart, strength and forgiveness. Thank you for the impact you've had on my son, on my family, on me. You have been an inspiration to me on so many occasions. Honestly, I'm not sure thank you is enough, that it captures what I want to say or has enough impact. You will always have my gratitude, a place in my heart, and be a memorable part of our autism journey. Thank you for all you have done and continue to do. 
X,
Bec and Liam
To all of you, during this season of thanks, I hope you have people in your life who have impacted you the way Alicia has impacted us. To the providers, teachers, therapists, doctors and everyone else supporting families — thank you. I hope you know what your dedication and commitment means to the families you work with. Many times, you're what helps us get through a tough day, and we will be forever thankful.
For all of November, The Mighty is celebrating the people we don't thank enough. If you'd like to participate, please submit a thank you note along with a photo and 1-2 sentence bio to community@themighty.com.
Want to end the stigma around disability? Like us on Facebook.
And sign up for what we hope will be your favorite thing to read at night.