To the Lady at the Grocery Store Who Let My Son Tap Her Shoulder
---
"Good Ways to Get People's Attention" is one of the social stories my son's behavioral therapist has used to improve his social skills. Because words don't come easily to Alex, he may resort to inappropriate behaviors, such as suddenly grabbing someone's arm to get that person's attention. Instead, we needed to teach him socially appropriate ways to interact, especially since his tall six-foot stature could make him appear threatening to those who don't know him. Not only does he read the story aloud repeatedly, but he also practices the skills detailed in the story so he knows how to act around other people. Specifically, the social story tells him that he can wave, raise his hand, shake hands, give a high five, or say, "Hi" or "Excuse me." After repeating this exercise many times, Alex has made great progress; we've seen him do what he's been taught, tapping my shoulder when we're in the car, raising his hand during a meeting with his team of support staff and offering a high five to his therapists when they come to see him.
Recently, as we were shopping at the grocery store for Thanksgiving dinner items, Alex put these skills to good use and was rewarded for his efforts. After collecting our list of groceries, we headed for the self-check-out line and were greeted warmly by the store clerk who was supervising the registers. Apparently, Alex was impressed with her friendliness because he suddenly left our cart of groceries that he'd pushed through the store, walked over to her, smiled and tapped her gently on the shoulder, just as he had been taught in the social story he knows by heart. However, he didn't know what to say to her once he had her attention, so he just smiled.
Even though he'd done nothing wrong, my husband, Ed, and I immediately sprang into action, not knowing how she might react to his gesture and not wanting him to bother her. Ed apologized and led Alex back to the grocery cart, and I noticed the clerk following them. I asked Alex, "Did you want to shake her hand?" He lifted his left hand (as he always does, offering the wrong hand for a handshake), but she took his right hand in hers, gave him a nice handshake, which made him smile and seemed to please her.
Then Ed, still trying to smooth over a situation that could have been awkward, told Alex the next time, he could just say hello instead. The kind woman then put her arm around Alex's shoulder and said sweetly to him, as though they were old friends, "That's OK, anytime you see me, you can tap my arm. You're so precious." What could have been an uncomfortable incident became a pleasant one because she reacted so kindly, understanding that Alex intended no harm; he just wanted to interact with her. 
Before we left, I thanked her for being so kind to Alex, but she assured us that it was her pleasure, wished us a Happy Thanksgiving and made a special point to say goodbye to Alex, who was still smiling. As we took the groceries to the car, I felt teary that a stranger could be so kind to my son and make him so happy. Although I suspect she recognized Alex has autism, she responded with warmth and kindness instead of discomfort and avoidance. I hope she was as blessed by this brief encounter as we were.
As we celebrate Thanksgiving this week, I'm thankful for the many blessings in our life: our faith, family and friends that sustain and bless us, the healing we've seen in Alex, and for the kindness of strangers who take the time to interact with Alex.
To the pretty lady at the grocery store with the warm smile and kind heart, thank you for making Alex's day. You should know that Alex has an innate sense for people who are especially nice; he's drawn to them. You must be one of those people because he felt the need to reach out to you and get your attention. By responding to him with genuine affection, you've gained a new friend. That night after you called him "Precious" and told him he could tap you on the shoulder whenever he saw you, he asked what your name was. Overwhelmed by my fear of your reaction to him as well as by your sweetness to him, I didn't think to ask your name. However, we hope to see you again, and you should know that a young man with autism now includes you in his prayers as his "new friend" whom he wants God to bless. Indeed, I pray that you will be blessed for the kindness you have shown. While you dismissed it as "no problem," to us it meant so much, and we are thankful.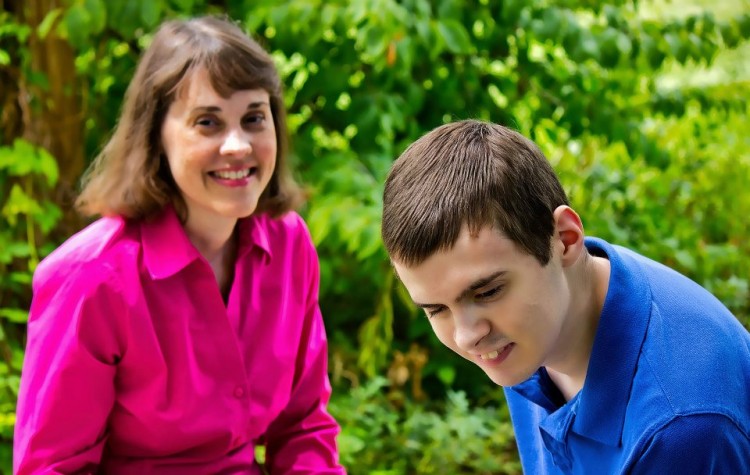 This post originally appeared on One Mom's Autism Notes.
Want to end the stigma around disability? Like us on Facebook.
And sign up for what we hope will be your favorite thing to read at night.