When a Man With Special Needs Surprised My Wife in Walmart
---
"What if he has an autistic moment in the middle of the store and people stare?"
"What if his vocal stimming and rocking in his chair disrupt the others?"
"What if it's crowded and I'm trying to push a wheelchair and a shopping cart at the same time?"
"What if all the handicapped parking places are already taken?"
My wife was debating whether to engage in a game of Walmart Roulette with our son.
Normally she tries to avoid places like Walmart when she has our son with profound special needs accompanying her. But this time, the items she needed required a trip to the superstore here in our small town.
Fear was whispering in her ear though, and doubts were slipping in through the unlocked door to her heart. Taking a child with autism and cerebral palsy into such an environment would require staring down the coward within.
Navigating my son's wheelchair and a shopping cart simultaneously with the skill of a NASCAR driver, she made her way down the narrow, packed aisles.
That's when she saw them.
Two developmentally disabled young adults, with their caregivers, were in the produce department.
As she passed by, one of the young men began to wave and gesture towards her. He approached her and my son, trying to communicate. Garbled nonsensical words and sounds gushed forth as the young man gesticulated wildly. His caregiver approached him from behind and tried to explain and apologize.
My wife waved the caregiver off at the pass and flashed him an "It's OK, I'm safe" motion. For the next couple of moments she engaged and interacted with this intellectually-challenged young man as if they were lifelong friends.
"He is trying to tell you he likes fireworks and wants to know if your son likes fireworks as well," explained the caregiver, pointing to my own teenage son in his wheelchair.
Soon, Becky moved on to finish her shopping and waited in one of the checkout lines. As she moved steadily closer to the Holy Grail of finally paying for her items and exiting the store, a moment ordained in heaven unfurled right at the counter.
The challenged young man and his caregiver were across the aisle from her, checking out with a different cashier. The young man made eye contact with Becky and began to wave.
As she waved back and flashed him that dazzling smile I first noticed 24 years ago, he left his caregiver's side and walked over to where Becky and Jon Alex were.
He stopped right in front of my wife and gave her a big, yet tender hug, gingerly wrapping his arms around her and just holding her for a second.
No doubt the moment had been God-breathed, God-inspired and God-ordained. Sitting in the car, tears in her eyes, Becky thanked God for that moment.
A moment where fear was trounced, the coward within defeated and where grace was allowed to not only abound but to triumphantly be displayed.
"I needed that moment," she would tell me later. "That was God's gift to me. If I had let the fear win, I would have missed something beautiful."
She did need that moment. But she was only partly right.
We all needed that moment.
The young man needed it. His caregiver needed it. The cashier needed it. Everyone in the store who witnessed the encounter needed it.
That was a gift to all of us.
 A masterpiece.
Sometimes, you'll find a masterpiece — even at Walmart.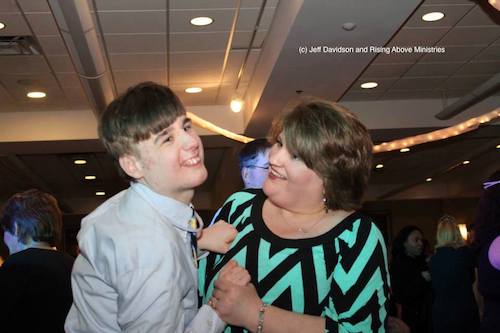 This post first appeared on DifferentDream.com.
Want to end the stigma around disability? Like us on Facebook.
And sign up for what we hope will be your favorite thing to read at night.