To the Nurses and Staff Who Have Become Family to Me Over the Last 12 Years
---
I was plenty nervous stepping into the infusion oncology center for the first time, despite already having gone through the same IV procedure at several other hospitals. The staff had never seen or heard of a person with MPS before, and the IV therapy had only been taught to them a week prior. But from that day forward, my life has never been the same.
To the nurses and staff — this is a thank you for all those times you watched me pull into the parking lot every week like clockwork (and even witnessing me back too quickly and bounce off the parking structure).  This is a thank you for calling every time I just didn't feel like showing up.
This is a thank you for being a part of my proudest moments, like being one of the first kids in my family to graduate from college. This is a thank you for being there through my most devastating moments, like when my relationship with my fiancée fell apart. This is a thank you for throwing all of those holiday and birthday parties for me and for all the gifts you didn't have to give throughout the years.
I thank you for being there as my disease has progressively taken over my life, for standing by me when I finally lost the use of my legs, for taking time off to show up to the ER when I suffered acute respiratory failure, for protecting me and my family as we trudged through the murky water of hospice care, for not giving up on me, despite what other doctors were saying.
Even though we know MPS may eventually take my life, we're fighting together to make that date further and further out. My family and I will always remember what you've done for me, and you'll always be considered family.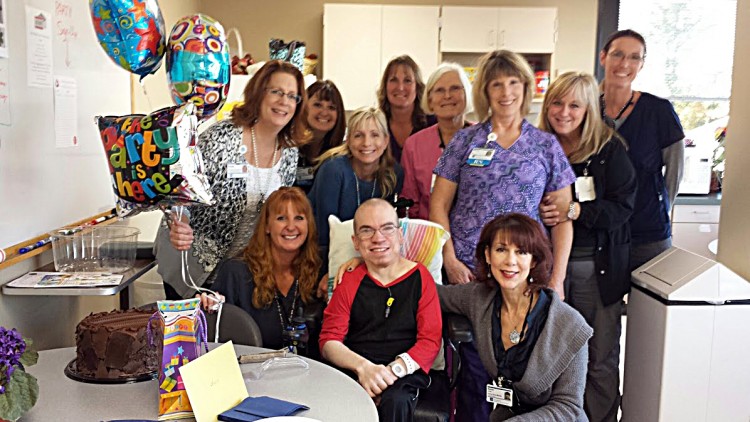 For all of December, The Mighty is celebrating the moments we gave or received a gift that touched our lives in a special way. If you'd like to participate, please send a blog post describing this moment for you. Include a photo and 1-2 sentence bio to [email protected].
Hint! Some gifts don't come in packages.
Want to celebrate the human spirit? Like us on Facebook.
And sign up for what we hope will be your favorite thing to read at night.