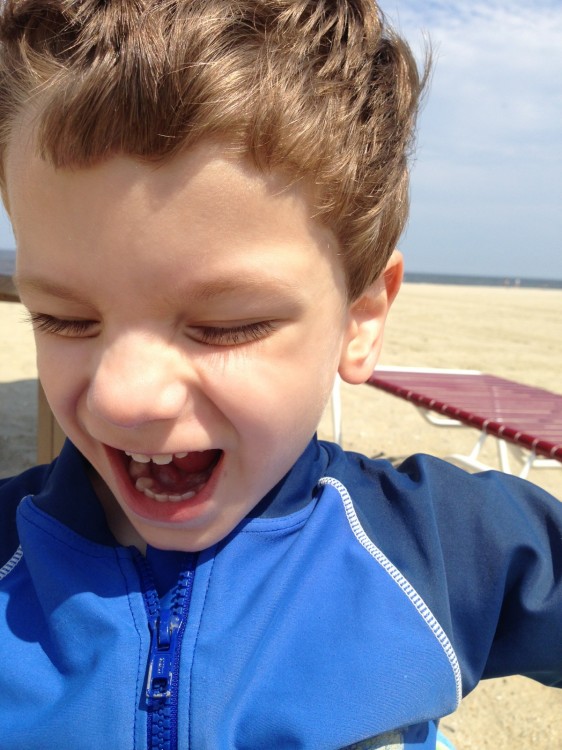 I've been to many parent/teacher conferences. I have three typically-developing children — well-behaved, high achievers. In these later years of their schooling, I've received a lot of forms with "No conference necessary at this time" checked off. In the early years I went in to confer with teachers, who, to my surprise, never wanted to talk about the sheer wonderfulness of my darlings. There was always a problem. Most of the time the problem was talking in class.
"I've tried him in every seat in the room," my oldest's first grade teacher complained in her beautiful Irish brogue. "Finally I put him in the back and he talked to himself!"
It was the same with my two daughters. All I could do was say how sorry I was that they were disrupting the class, promise to talk to them, and do so. Then I waited for maturity and the passage of time to do the real work. I myself was often written up as the chatterbox, my name chalked on Mrs. Turtur's blackboard circa 1976.
Now I have a son in kindergarten who doesn't talk — or walk or see. When I go in for a conference (and it's always necessary) I already know we won't be discussing his sheer wonderfulness. The life and education of a special needs child is a continual problem-solving process, and I've become a de facto member of the Child Study Team.
Last year I went in to meet with T's TVI (Teacher of the Visually Impaired). They'd been working on nesting and stacking cups. T uses an adaptive activity chair with a tray in these sessions, and Miss R. told me when he grows frustrated with the activity, T pushes the cups off of his tray with a sweeping arm motion.
"But Mrs. V. [my son's aide] has gotten very good at catching the cups in mid-air and putting them right back," Miss R. assured me. "So… lately he's started throwing them backwards over his shoulder, instead."
We looked at each other for a moment, and then I burst out laughing. Miss R. did too.
"I know… it's wonderful, isn't it?" she said. "So typical for his age, so creative…"
"So naughty," I filled in.
It's so hard for T to make himself known as a person in the world. At home we know him well, but it's hard sometimes for us to understand what he wants and needs. He has only a few signs and sounds he uses to communicate. He relies on others to move him around and bring him things. We make so many decisions for T, and many of them are guesses.
I never expected that my heart would swell with joy when I heard my little boy was doing something naughty. I went around bragging about it for days. He'd given me the gift not just of rebelling against something, but finding a new and better way to rebel when thwarted. Sometimes, when I worry, I take that memory out and picture Miss R.'s impression of T tossing a cup over his shoulder with determination and aplomb.
Naughty — but also very nice.
The Mighty is celebrating the moments we gave or received a gift that touched our lives in a special way. If you'd like to participate, please send a blog post describing this moment for you. Include a photo and 1-2 sentence bio to community@themighty.com.
Hint! Some gifts don't come in packages.
Want to end the stigma around disability? Like us on Facebook.
And sign up for what we hope will be your favorite thing to read at night.