When I Realized the True Effect My Daughter Has on Others
---
Eleven years ago, when our first child was born, we had a little inkling that life would take a different path than the one my wife and I had envisioned. Within 24 hours we learned our daughter would need special feedings and surgery to repair a cleft palette. Within four months we learned she has a rare genetic disorder called Idic 15, which results in severe developmental delays. Within six months she started having seizures. I remember those days being filled with concern and worry. I remember the stress involved with each new doctor appointment. I remember wondering what might come next.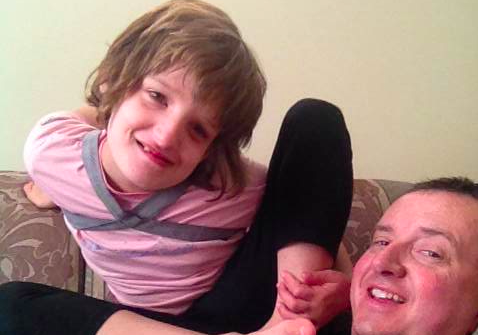 Eleven years later, Jordan is a happy, sweet girl who loves life, her family and her friends. She's nonverbal, not toilet trained and has been assessed at the developmental age of 3 years old. She will always need and be in someone's care, and she needs a lot of supervision. We're fortunate that there are programs, funding and people available to help us with her needs. This includes support at our local daycare, school and respite care. We're grateful for all of the help we receive, but with all of these people involved I sometimes wonder what they think of her and her need for all the extra help and attention.
It turns out that our little Jordan has made an impact on a lot of lives. People who have come to know her and work with her have let us know, in many different ways, that they think the world of her.
Jordan has formed a bond with many of our family members. One uncle who used to live in the same community would visit regularly. Every time he came over, Jordan would run to him with a big grin on her face and start jumping up and down and laughing her head off. The two of them would carry on for 15 minutes like this. Uncle H would often phone to see if we were home because he needed some "Jordan therapy." When he recently moved to another town, we took some video on Jordan's iPad of the two of them having fun. Jordan watches those videos constantly. Uncle H recently told me, "Let me know if she starts missing me again, I'll come for a visit".
In September, Jordan changed schools, going from early years to middle years. This meant not only a new school but new teachers and new educational assistants working with her. A few days ago, two of the EA's who worked with Jordan for years in her time in the K-4 school texted my wife to say they missed her and asked if they could come visit and spend some time with her. I know she'll be excited to see them.
Yesterday, a card came home in her backpack from a current EA with the most beautiful note in it. She described how much Jordan has brought joy into her life. She talked about Jordan's penchant for "making eyebrows" and how her laugh rolls when she plays this game. Along with the message was an offer to watch her if we wanted an evening out.
If I take Jordan out somewhere, I can expect to run into someone I don't know who knows her and who will come over and say hi and talk to her. 
Walking into the school with her brings dozens of greetings from the other kids. Many of them make an effort to come and hold her hand or give her a hug.
My parents will hear comments from the community like, "I sure love that granddaughter of yours." The mother of the lady who provides respite care for us tells my wife how she hears about Jordan from her daughter and how she loves coming to our place because Jordan is just so much fun to be with.
I've come to learn that the Jordan Effect is one where this child who doesn't speak, who is younger than her years and who needs constant supervision, is a child who brings joy, friendship and love to many people in our community. She inspires others to share, to recognize success and to reach out with a helping hand. She has taught her father not to fear what comes next but to look forward to the future and embrace it. She has made a difference; she has had an effect.
For all of December, The Mighty is celebrating the moments we gave or received a gift that touched our lives in a special way. If you'd like to participate, please send a blog post describing this moment for you. Include a photo and 1-2 sentence bio to community@themighty.com.
Hint! Some gifts don't come in packages.
Want to end the stigma around disability? Like us on Facebook.
And sign up for what we hope will be your favorite thing to read at night.