The Beautiful Moment Our Mostly Nonverbal Son Surprised Us
---
We decided to take the kids to Temple Square in Salt Lake City when we were in Utah for Thanksgiving. It's always a hard thing to take Joey to public events. Joey is 8 years old and is hearing impaired, mentally impaired, developmentally delayed, mostly nonverbal and has a seizure disorder.
At home we understand his behavior most of the time and how he's feeling and what he wants. In public, all bets are off. So many things can upset him or overstimulate him or excite him, and it's hard because there isn't always a quick exit. But we go anyway because we want to do things as a family, we want the other kids to experience things and most of the time we think Joey will like it.
The car trip to Temple Square was about a half hour, and Joey was not happy. He was whining and crying the whole way, but we were going to ride a train (public transit) when we got to Salt Lake City, and he loves trains. Once on board, he was happy, but after about 15 minutes, it was time to get off and that made him very unhappy. We had a couple blocks to walk to Temple Square and that took a while since he only wanted to go back to the train. (He even lay down on the sidewalk a couple times). But we could now see the Christmas lights, so we kept going.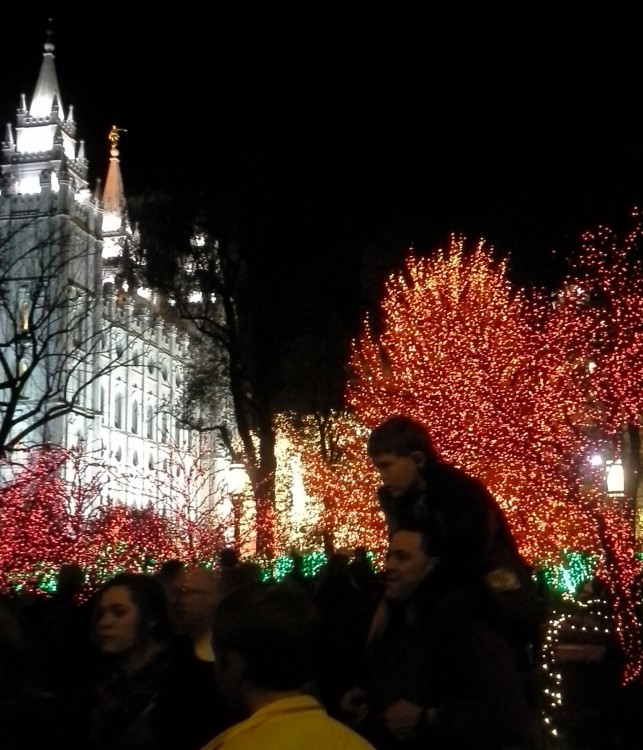 Once we got there, we were sure Joey would be awed by the lights, but he was still crying and didn't want to walk, so John lifted him up on his shoulders (I still don't know how he can do that with an 80-pound Joey)  and our son finally quit crying. He liked the lights and was looking around at everything. We were able to enjoy the lights too and pay attention to how the other kids were doing — things were going well. We got up close to the Temple and were by the front doors of the Tabernacle, and John put Joey down. Joey loved seeing building and wanted to sing "I love to see the Temple," one of his favorite songs, so we did. I held his face and we sang the song together, and he laughed and sang and loved it. Then he turned around to John and said, "Thank you" and hugged him and turned to me and hugged me and said, "Thank you" clear as ever and started laughing again and saying "Thank you" several more times. It was so sweet.
It's those moments that make it all worth it. We felt the spirit so strongly for those few minutes.
The moment didn't last long because then Joey was done, and when we tried to stay a few more minutes he sat down right there in front of the Tabernacle with tons of people around and wouldn't get up because he didn't want to walk anymore. So my hero, John, once again picked him up, put him on his strong shoulders, and we went home.
The walk back to the car was as crazy as the walk there, especially when Joey saw the trains going the other way, and we didn't get on them. I'm grateful for our older children who help out with Joey and will still go out in public with us. And I'm thankful for extended family that puts up with our craziness, too. Joey is a blessing to us because he helps us appreciate and have joy in the simple things.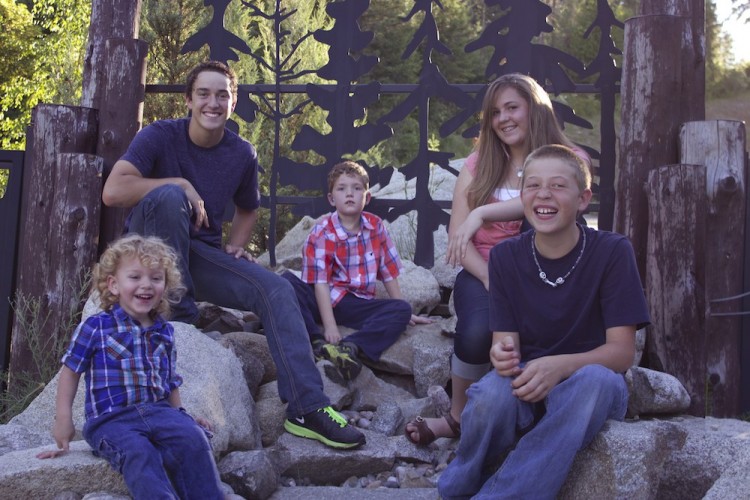 Want to end the stigma around disability? Like us on Facebook.
And sign up for what we hope will be your favorite thing to read at night.