My Son Had a Meltdown on an Airplane and Everyone's Responses Shocked Me
---
I've been saving for our family to go to Disney World in Orlando for years. So I decided in November 2013 that is was time to finally plan it. My partner's mom and her husband gave us their points on their Disney timeshare and booked us at Disney's Animal Kingdom Lodge overlooking the savanna. It wasn't just any room – it was a beautiful two bedroom suite.
I did everything I could to prepare our son with autism for the trip. We even went to the airport on a tour for kids with autism and explored the plane a month early.
Fast-forward to the day of take-off. We get on the plane, and as it backs out on the runway, our son completely and utterly loses it. My partner was sitting next to him, with a gentleman in the aisle seat, while I sat behind them with our other two kids. I had to change places with that gentleman to help my partner with our son, who shrieked loud enough for the whole plane to hear, tried to climb over the seats in front of him. He just wanted to escape, and there was no place to go. This lasted for around a half hour. It was awful — one of the worst experiences we've ever had with him. By the time it was done, the three of us were a sweaty mess with adrenaline coursing through our systems.
Honestly, I wouldn't have blamed the people around us for being irritated. Honestly, I'd expect some people to be judgmental. But no one was.
A lady sitting near me asked if there was anything she could do and told us we were doing a great job with him. She even gave us a salad she'd bought in the airport for an outrageous amount of money and insisted we take it. I cried; I didn't expect anyone to see how we were trying to comfort him and get him to be OK and restrain  without hurting him. It was hard, it was awful, it was loud, and someone saw through it all to the love and care we were using with him.
When we landed, the people behind us weren't judgmental but kind. The gentleman I traded places even stated that he had to be sedated to fly or he'd feel inclined to do what my son had been doing.
I never expected people to understand and care like that. In fact, as I type this, I have tears running down my face. That was one of the best gifts I've ever received – the kindness and caring of strangers.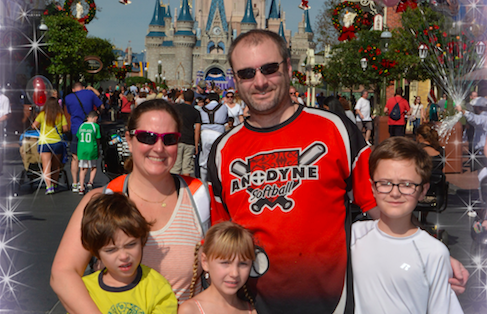 The Mighty is celebrating the moments we gave or received a gift that touched our lives in a special way. If you'd like to participate, please send a blog post describing this moment for you. Include a photo and 1-2 sentence bio to community@themighty.com.
Hint! Some gifts don't come in packages.