10 Inventions Revolutionizing the Lives of People With Disabilities
---
Robot-takeover aside, we're all for more technology — especially tech that helps make life drastically better. Here are a few examples of incredible inventions making the lives of people with disabilities easier all over the world.
1. This piano that can be played with your eyes:
Eye Play the Piano is a system that allows a person to play the piano without the use of the hands or arms. An eye-tracking device mounts on the player's head and allows them to select keys to play using eyesight, blinking and head movements. Watch high school student Kota Numajiri using the system to participate in a school Christmas concert in the video below.
2. This anti-tremor spoon that helps people with Parkinson's disease eat on their own:
The Liftware Base Stabilizer spoon was recently acquired by Google, according to The Associated Press. The utensil allows people who live with essential tremors or Parkinson's disease to feed themselves and more comfortably eat on their own.
3. This app that's helping kids with autism learn to make eye contact:
Some people with autism struggle to initiate and maintain eye-contact, so reading emotions of the people around them is more difficult. To help combat this problem, Samsung and a team of scientists developed an interactive camera app called Look At Me. The app encourages children to make eye contact with a parent or guardian through the use of the smart phone camera and helps keep them motivated through a points system, themed missions and various sound and visual effects.
 4. This car that wheelchair users can roll right into:
Having spent her whole life in a wheelchair, Stacy Zoern, a former intellectual property lawyer in Texas, understood the need for increased mobility and independence. So she quit her job to start the Kenguru car company, which sells electric, lightweight cars that wheelchair users can easily wheel into. The small electric car is designed to go around 25 miles per hour, making it ideal for getting around town but not for busy highway travel.
5. These iPhone and iPad apps that help people with nonverbal conditions communicate:
Apps like Assistive Express by Assistive Apps can be life-changing for those who can't communicate verbally. It gives them a voice by allowing users to express themselves in a simple and efficient manner — keystroke. With these types of apps, people can participate in conversations, perform transactions with strangers or simply get their needs across to a loved one. They feature word prediction to make typing faster and a selection of natural sounding voices for the user to choose from.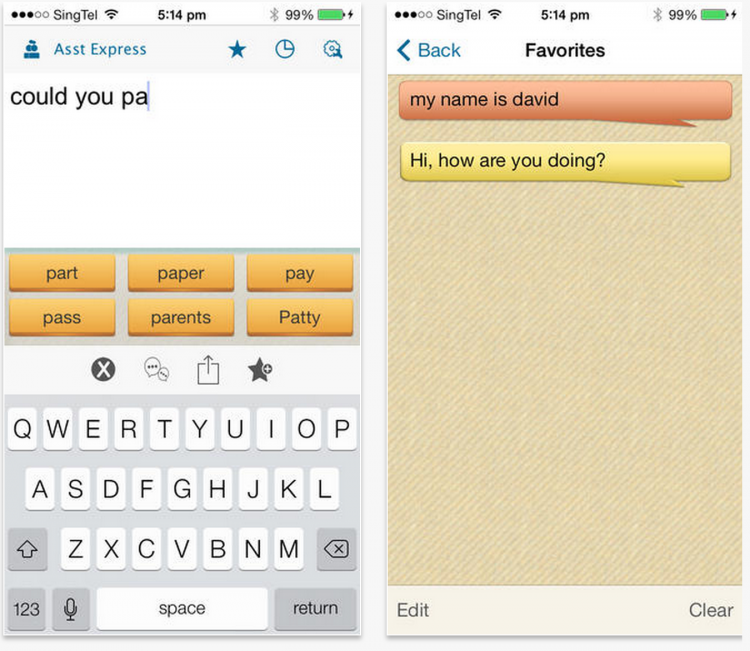 6. This font that's helping people with dyslexia read more easily:
A Dutch graphic designer named Christian Boer created a font that makes reading easier for people, like himself, who have dyslexia, according to his website. And, he's letting people download it for free. The font makes reading easier for people with dyslexia by varying the letter shapes of similar looking letters, such as "b" and "d." This makes it easier for people with a language processing disorder to distinguish between them.
7. This app that allows strangers all over the world to assist the visually impaired:
A nonprofit called Be My Eyes has created an app that allows people with visual impairment to take live video of objects and writing they need help deciphering and send it to sighted volunteers who can describe the objects or read the text aloud, according to the app's description on iTunes. A person with visual impairments can request help for anything from reading a label to identifying dangerous objects in their surroundings, all using the camera on their smartphone.
8. This belt that can detects seizures:
Created by students at Rice University and called The SMART (Seizure Monitoring and Response Transducer) belt, this device uses electrodes on the torso to sense electrical conductivity and a different sensor to monitor breathing. When the electrodes and the sensor pick up signs of an incoming seizure, a transmitter sends a signal via Bluetooth to a computer or smartphone. While it cannot prevent a seizure from happening, The SMART belt can be worn under clothes easily, making it ideal for parents of children with epilepsy to monitor their child and help keep them safe.
9. This device that can teach the tongue to 'hear' sounds:
A research team at Colorado State University has developed a process for using the tongue's nerves to interpret electrical signals which represent sounds. Here's how it works: Audio, the word "cat," for example, is taken from an earpiece microphone and turned into electrical signals that are sent to a mouthpiece using Bluetooth technology. The mouthpiece then creates a signal or pattern on the tongue that represents "cat." Eventually, the brain will subconsciously identify that pattern as meaning the word "cat."
10. This harness that allows parents to walk with their children with disabilities: 
Called the Upsee, this harness system was invented by a mother so she could walk with her son, who has cerebral palsy. The Upsee is great for children with neuromuscular disorders and limited mobility because it allows them to walk with the support of another person right behind them.
Do you use a piece of technology that makes life easier for you or a loved one with a disability? Let us know about it in the comment section below. 
Want to end the stigma around disability? Like us on Facebook.
And sign up for what we hope will be your favorite thing to read at night.