January 29, 2015
To the Couple Who Noticed Me Feeding My Teenage Daughter at IHOP
---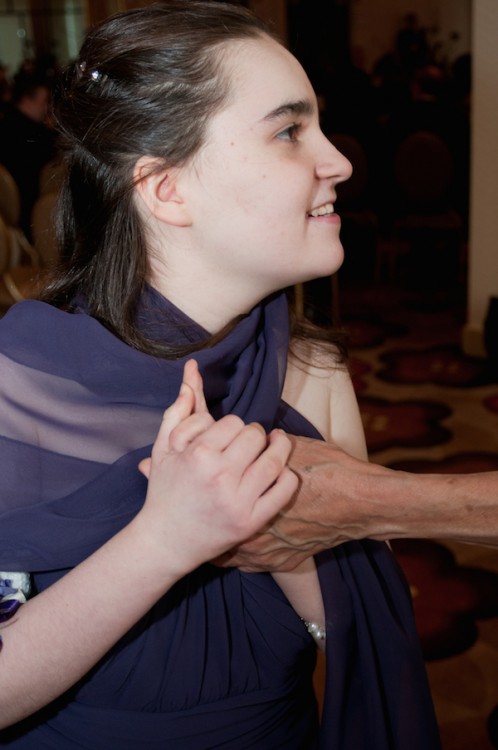 When my daughter was 16, she had a day off school that I'd forgotten about. I, meanwhile, had planned my own day off. Attending therapy had been on the agenda.
Why couldn't I leave a 16-year-old at home, you wonder. Simple. My daughter copes with Rett syndrome, a devastating neurodevelopmental disorder. She's nonverbal and cannot walk without assistance. Even sitting in a typical chair can be dicey, as her balance is poor. She drinks from a bottle — the only self-care task she can do on her own.
Desperate to have some meager amount of quality time with her — between all the things I needed to get done — I thought of something she could enjoy. The International House of Pancakes. She loves breakfast food. So, between errands, I stopped for breakfast at our local IHOP.
Slowly, I guided her through the double doors (curse you!) and thankfully, the staff sat us immediately. Picture menu? Thank God. I could see her eyes scanning the choices. We quickly ordered and hoped for the best. I put on her bib and cleared away anything on the table so she wouldn't accidentally push it off. She did OK.
Our meals came dripping with delicious but sticky syrup. Oops. Forgot about that. Feeding her requires magic hands to cut up the food into small enough pieces to prevent choking. Then I slowly feed her bite by bite. About every third bite, I sneak one in from my meal. And a blessed sip of coffee.
I forget sometimes how it might look to an outsider — certainly not pretty. My daughter's vocalizations, to me, have meaning. To others? I'm sure they can be rather irritating. This day, her favorite food — pancakes — kept her giggling. We finished our meals without any major fiascos. Sigh of relief.
I then realized I would need to leave her at the table while I paid the bill. Panic. She could fall in a restaurant chair. She might shriek. I was alone with her, and I was torn. How was I going to manage this? It's why I never usually do spur-of-the-moment things.
As the waitress came by, I asked for the bill. And she told me the patrons at the table next to us had bought our breakfast. Why? Because they thought it was so loving the way I was caring for my daughter. I get tears now, even years later.