January 14, 2015
These Photos of a Boy and His New Helpful Companion Will Brighten Your Day
---
Zachary Steinbeiser, 8, has certainly been dealt more than his fair share of obstacles in life. Born with a neural tube defect, which hindered his brain's development, he's also autistic and has both ADHD and epilepsy, according to Life With Dogs. But things just got much brighter for Zachary — he now has a bushy-tailed friend to help him tackle the everyday challenges of living with his difficult diagnoses.
The thing Zachary wanted more than anything in the world was a dog. So, last month, The Seeing Eye and The Make-A-Wish Foundation teamed up to pair him with one. Zachary and his parents traveled from their home in Lansdale, Pennsylvania, to The Seeing Eye guide dog school in Morristown, New Jersey, where Zachary first met Whitley, a 2-year-old labrador/golden retriever mix. Zachary and Whitley became fast friends, and now Whitley is the latest (and furriest) addition to the Steinbeiser family.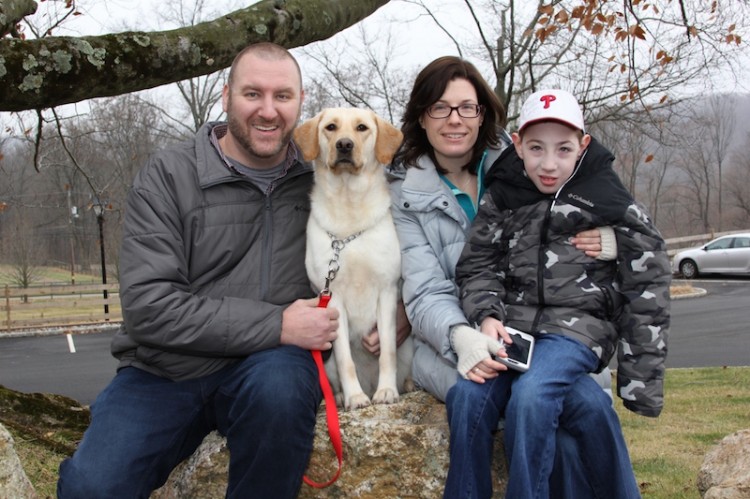 "We're pleased to be able to match the Steinbeiser family with a bright-eyed, furry new addition to their home," Seeing Eye Director of Canine Development Peggy Gibbon said in a statement, according to Montgomeryville-Lansdale Patch. "Whitley is an exceptionally sweet and loving dog who will give Zachary many years of friendship and devotion."
Photos courtesy of The Seeing Eye. 
Want to end the stigma around disability? Like us on Facebook.
And sign up for what we hope will be your favorite thing to read at night.