January 21, 2015
What I Wish I Knew the Day My Son Was Diagnosed With Angelman Syndrome
---
February 7, 2001
Today is D-day. The day you will receive a diagnosis that will change your life forever. You will hear "Angelman syndrome" for the first time. The diagnosis will explain all of the challenges your firstborn has been facing — failure to thrive, ocular albinism and developmental delays. But there's more. Your son will likely have seizures. He will never speak. He will need 24-hour care throughout his life.
At the same time, the geneticist will explain that parents who have children with special needs have a higher divorce rate. It will feel like your world has completely shattered in an instant. Not only do you have a 7-month-old son who has multiple, severe disabilities, but you suddenly question the strength of your marriage and your dream of having more children.
Since you're in sheer panic from what you just read, let's fast forward 14 years; you've always been one to cut to the chase. It's 2015 and this year you will celebrate your 17th wedding anniversary. You've been blessed with four children, all of whom are special in their own way, and your son will find his greatest joy when he's with his sisters and brother.
The first 14 years will see many challenges, the biggest one being seizures, but know he will be OK… and so will you.
Be an admirable advocate for your son, not an angry one. There's a big difference. It's too easy to become angry at people who you feel aren't giving you everything your son needs. Stop for a second and take a deep breath. Remember that it's so much easier to help him when you feel like his doctors, nurses, therapists, teachers and caregivers want to be part of your team. Show them respect, and they will admire your calm approach.
You will learn to dream new dreams. Keep in mind that typical milestones such as learning to drive a car, going to prom, graduation, getting married, etc., are not going to be disappointing to him. Thinking about things he won't experience is difficult for you but not for him. He's a happy child. I'm not dismissing the fact that you will grieve for the loss of the child you thought you had, but you will also celebrate the one you have.
Along the way, you will find strength you never knew was within you. You will learn to appreciate the smallest things because you will realize that they actually are big things. You will cry tears of joy when you see how hard he works to feed himself and to walk, even though he may never do either of these things independently. Seeing him learn to pedal and steer an adaptive tricycle will be far more exciting than you can imagine. And he will surprise you countless times along the way, like when he learned to crawl at 12 years old.
He will bring selfless, caring people into your life, and soon you won't be able to imagine life without them. Not only will you form lifelong friendships with professionals in both the medical and educational fields, you will meet so many amazing families who share the same diagnosis or similar challenges. Your son will soon become your greatest teacher. You will learn important life lessons that no one else could possibly teach you.
For now, just breathe. Try your best to not think about the "what ifs" — whether or not your marriage will survive and if your plan to have more children is suddenly far too scary.
You'll convince your husband that you need marriage counseling as a preventative measure to ensure that you stay together. Your husband will agree to it because he loves you. But don't expect the counselor to give you a certificate that says you're guaranteed a successful marriage. Just know that your husband will do anything to help you adjust to the world of special needs. You have a strong foundation for your marriage, and your love and commitment to each other and to your son will guide you each day.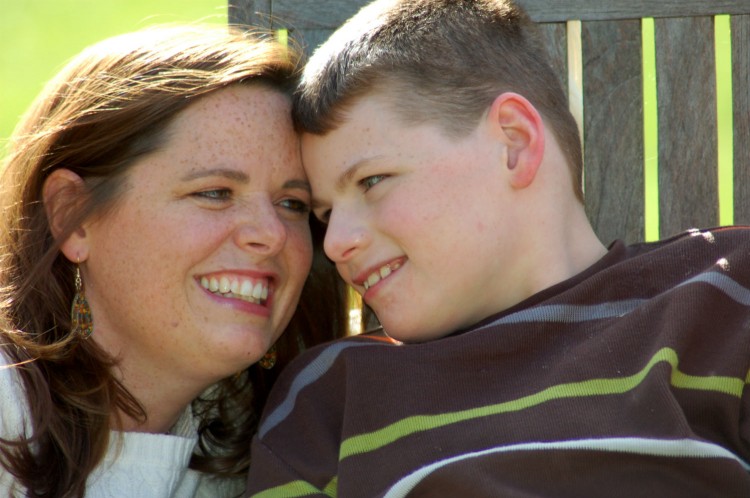 Above all, remember that your primary role is to be his mom. Although you will wear many hats and acquire many skills you never imagined, don't feel like you have to be his therapist all the time. You can provide therapy too, but a therapist can't be his mom. No one can possibly love him and comfort him the way you can. And don't worry about what it's going to be like changing your teenage son's diaper. You know what? At age 14, it's really no different than it was at age 13, and that wasn't much different than at age 12.
You will do everything you can to help your son reach his full potential, whatever that potential may be. Try to spend less time worrying about the future, and live in the moment. Remember how your son's smile always lights up a room and that his laughter is contagious. It won't take long to realize that he doesn't need words to say "I love you."
It also won't be long before you can't imagine your son or your life any other way.
For all of January, The Mighty is asking its readers this question: If you could go back to the day you (or a loved one) got a diagnosis, what would you tell yourself? If you'd like to participate, please send a blog post to [email protected]ghty.com. Please  include a photo for the piece, a photo of yourself and 1-2 sentence bio.