When People Ask How I Handle Our Challenging Life, I Say This
---
"I'm so sorry… I know you were just here."
"It's fine. It's what I signed up for."
I jump in my car, still warm from picking up a sick son just 30 minutes earlier, and head to the preschool to tend to an insulin pump that's screaming its head off (the sixth insulin pod in a box of 10 to bite the dust in three days).
But this is what I signed up for.
Last month I made a quick stop at Macy's and, as has become customary since our triplets arrived, I spent the entire time flipping through the clearance rack in the kid's department.
I stepped up to the checkout counter, my arms filled with Dora the Exploerer jammies and Hello Kitty flair, proud of my deal-seeking skills.
"Wow! Do the girls you're buying for know they're getting some cute new things?"
"Actually, these are for my daughters."
"Oh, you have twin girls?"
"Well, I have triplets… two girls and a boy."
"Holy cow! What did you do when you found out you were having triplets?! I would have hung myself."
And… scene.
The sad truth is that this isn't the first time someone has said something like this to me. In fact, most people I meet who learn that we not only have triplets but that one of them also has type 1 diabetes, express their sympathy to me in varying forms.
But this is what I signed up for.
When I was young, I used to say I didn't know if I wanted to have children. I knew I had a selfish side. I wanted to be successful professionally. I wanted to travel. I wanted to have the freedom to do what I wanted, when I wanted.
And then things changed. I wanted to be a mom.
But it wasn't that easy. Not easy at all. Like, five-years not easy.
It's not until you realize there's a possibility — a real possibility — that you can't have kids that you realize whether or not you're meant to be a parent. I realized I'd been wrong.
I wanted someone to call me "Mommy." I wanted someone to ask me to tuck them in at night and assure them there were no monsters in the closet. I wanted someone to ask me why the moon goes to sleep during the day and why Donald Duck doesn't wear pants.
That is what I signed up for.
When people ask me, "How do you do it?" the answer is actually pretty simple… How could I not? I don't know any different.
When you become a parent, you're making a commitment to one thing: to love your children — no matter what. We don't get to choose what challenges come with parenthood. We don't get to decide what we can handle and what we can't — that's done for us. What we do get to play a role in is how we parent and how we show our children that we love them. Did I sign up for diabetes? Of course not. But I did sign up for being a mom.
I'm constantly amazed by the number of friends we have whose children are facing challenges including type 1 diabetes, Spinal Muscular Atrophy, Apraxia, severe food allergies and many more. Did any of us know or envision our children's lives being consumed by these challenges? No way. Did any of us know we would soon become advocates, fundraisers and educators about these diseases/disorders? Not a clue.
But, we have.
Because that's what we signed up for.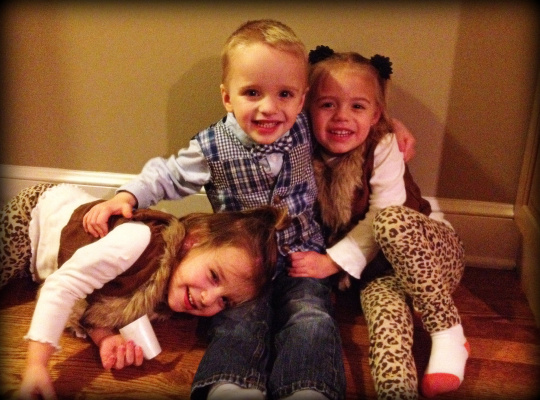 This post originally appeared on Inspired by Isabella.
Want to end the stigma around disability? Like us on Facebook.
And sign up for what we hope will be your favorite thing to read at night.