January 30, 2015
When a Person I'd Never Heard of Gave My Son an Award
---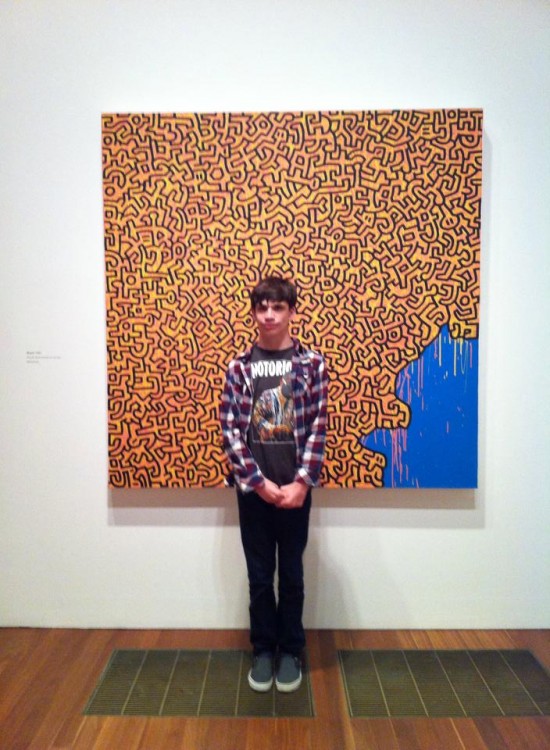 Sometimes, when I hear people speaking disparagingly about the disabled, I want to show them a picture of my son, Pete, and say, "This is what autism looks like."  Because there's nothing piteous or sad about my Pete. He's about the best person I know, and I feel lucky to be his mom.
In some ways, Pete's just like other teenagers. He likes hip hop music and sequestering himself in his bedroom. He likes to dress a certain way and likes hanging out with his friends. In some other ways, Pete is wonderfully unique. One of the most amazing things about Pete is the way he cares about other people. Pete likes to compile information about a person when he meets them and likes them. He'll remember their birthday, their parents' and siblings' names, what kind of music they like. Pete will remember this forever. When we walk across the campus of his middle school together, kids always shout out, "Pete, when's my birthday?" to which he will gleefully reply with the correct date.
Pete's had to work hard with his speech therapist on friendship, though, because he's struggled. He had to be taught how to keep a conversation going and how to ask questions and not dominate the conversation. He had to learn to bring up topics that a friend might be interested in and not just talk about presidents or hip hop. Pete made such great progress in this area that his speech therapist awarded him "Student of the Quarter" when he was a seventh-grader. Pete was proud and so was I.
I was astonished when he came home with another Student of the Quarter Award this year. This is what it said:
Pete has exhibited good citizenship and school work habits.  He is always in a good mood and respectful to students and staff.
It was signed by a person named Frank. I asked Pete who Frank was, because he's not Pete's special education teacher, mainstream teacher, adaptive PE teacher or speech therapist. Pete told me that Frank is the school's janitor. He then proceeded to tell me Frank's birthday, parents' names, number of siblings (and all their birthdays) and details about Frank's children.
Pete didn't see why being nominated by Frank moved me so much. And that's because Pete does not judge anyone. Pete values every human the same way, as long as the person is kind to him. Pete doesn't know that most eighth-graders don't want to hang around chatting with the janitor.
Being Pete's mom has opened me up and pushed me out of my comfort zone over and over. He's taught me things I don't think I ever would have learned without him. I think so far, the most important lessons I've learned from Pete are how to be more accepting and how to see the best in people.
For all of February, The Mighty is asking its readers the following: Describe the moment a stranger — or someone you don't know very well — showed you or a loved one incredible love. No gesture is too small! If you'd like to participate, please send a blog post to [email protected] Please  include a photo for the piece, a photo of yourself and 1-2 sentence bio.
Want to end the stigma around disability? Like us on Facebook.
And sign up for what we hope will be your favorite thing to read at night.