January 11, 2015
Why This Little Interaction With My Son Means So Much to Me
---
When I heard Dominic running down the stairs and into the family room at 6:30 a.m. this morning, my first thought was, what in the world is he going to do with the two hours before his bus arrives? Would he play with his toys? The i-Pad? Rest on the couch? When I asked Dominic what today was, he told me, "riding a bus to get to Kinawa (his middle school), pizza!" Yep, every Thursday I let him get hot lunch, which always includes pizza.  If Dominic had his way, every day would be pizza day.
Next up for him was breakfast. I told him I would be making homemade waffles and would let him know when they were ready. When his "order" was up, he came dancing into the kitchen to get them. He then remarked, "Grandma lives in heaven." Well, yesterday was the four year anniversary of when my mother-in-law passed away.  It was tough not to grab a tissue and dab my eyes. Next, Dominic said, "Lauren?" I told him that she wasn't here. He then said, "Lauren is at college!" Yep, she went back to start her second semester this past Sunday. Dominic then told me, "Miss Mary on Saturday!" Miss Mary is his private speech therapist that we started seeing during the summer of last year and we continue to see her on Saturday mornings. I told him, "thanks for reminding me, I need to write that down on the calendar!"
There was a time in the not so distant past, when we would have to guess what he was thinking and wonder if we would ever be able to carry on a conversation with him.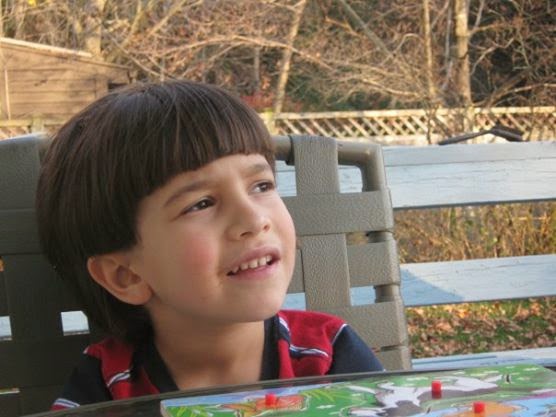 There was no guessing this morning as to what Dominic was thinking, that's for sure– he let me know all about it! I can't wait for him to come from school this afternoon and tell me all about his day. I'm sure at the top of the list will be how much he enjoyed his pizza at lunch!