February 12, 2015
A Simple Gesture From a Woman in Church Made a Disastrous Situation Manageable
---
It was Sunday in our new town, Terre Haute, Indiana. We had just recently moved two hours away from my family who helped me all the time, so my boys could receive applied behavioral analysis (ABA) therapy. Before we moved, I went to church every Sunday. The only problem with taking my boys to church is that I need help. I can't manage my two sons alone — in our old town my parents helped me every Sunday.
Both my boys have autism. My oldest son, Trenton, is nonverbal, is a wanderer and requires 24/7 care. My youngest son, Andrew, has mild autism. Taking my sons anywhere requires at least two to three adults at all times.
My parents came for a weekend visit right after we moved. We all went to what would be our new church that Sunday. That day, we met a nice woman named Linda. I explained to her that my boys have autism and that I just moved to the area. We had an enjoyable conversation.
A few weeks later, I attempted church by myself. I didn't have anyone to help me, but I didn't want to miss mass. I was nervous and scared, but I had faith we could do it.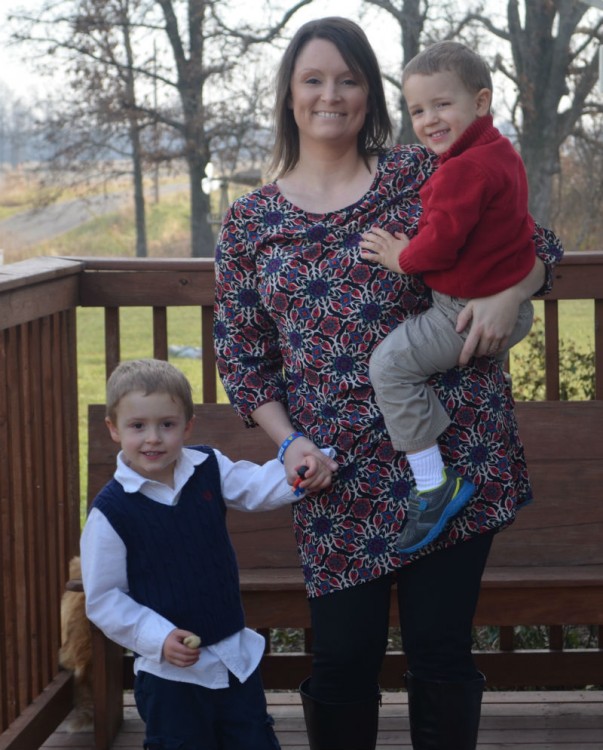 We made our entrance into church after Andrew, who hardly ever runs away, got away from me while I was getting Trenton out of the van. He ran across the parking lot, without looking for cars, with an oncoming van not too far away. We walked into the church right on time. Once we took our place in the last pew, Trenton immediately went into sensory overload. He bolted from our seat before I knew what was happening and ran all the way to the front of a long, big church. He stood up on the stage, pacing, making anxious movement with his hands and loud noises with his mouth. I took off running after him, leaving Andrew all by himself. Once I got a hold of Trenton, I just smiled at the whole church and forced Trenton back to our seat.
Linda came to my rescue.
She said she would help me during church. It was a gift to have such a kind lady, who doesn't even know me, offer her help. I felt instant relief come over me.
About two minutes after Linda sat by me, Trenton couldn't manage his sensory overload anymore. He started screaming and putting his hands over his ears. Then he took his Play-Doh and threw it all over the church. There was no calming him. I grabbed him, but he started hitting and kicking me. I tried to put him on my lap, but his screams were blood curdling at this point. His feet were kicking the pew in front of us, his arms were swinging from side to side and hitting my face.
He pulled my nice, neat ponytail and accidentally kicked Andrew in the face. Andrew started crying and tried to climb up on my lap while I was still holding out-of-control Trenton. I looked at the kind lady who was trying to help me, and her face told me that she had never seen a sight like she was witnessing at that moment. I told her I needed to leave, and she quickly agreed that was probably a good thing. Once Andrew finished crying from being kicked in the face, he started crying because he didn't want to leave church. Linda helped us exit. Thank goodness!
Once we got the boys strapped in and I thanked Linda for helping us, I sat in the van and sobbed like a baby. I sat there for a good five minutes and just cried.
Even though my church experience was a disaster, I'm not sure how it all would have played out without Linda's help. She knows little about autism, but she was there to help me and simply give me moral support when I needed it.
This post originally appeared on Two Bothers, One Journey
Want to end the stigma around disability? Like us on Facebook.
And sign up for what we hope will be your favorite thing to read at night.