To the Food Lion Employees Who Saw My Son as a Person First
---
We live in western Kentucky in town of about 35,000 people or so, and most around here refer to our town as small. Indeed, it's small enough that know a lot of people, but it's large enough that you don't know everyone.
Usually I'm at work during the day; however, I'd taken a couple days off because my husband had shoulder surgery. I stayed home to care for Sammy, our 2-year-old, who has Down syndrome. My husband, who's retired from the military, is the one who's typically home with him during the day.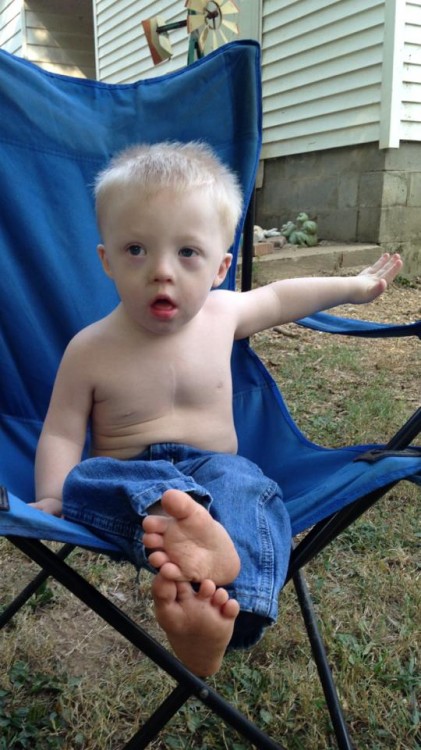 One day, Sammy and I went to the grocery store to pick up a few things. He was riding in the seat of the shopping cart, always watchful and checking out everything. We made our way to the checkout line. While the cashier was ringing up our order, she looked at Sammy and said, "He is the cutest thing!" I got him to do his "hi" wave, and then he pulled his "duck my head and act shy" thing. She mentioned that she has a 30-year-old brother with Down Syndrome, who her parents adopted, and how lucky she was to have him, considering the negativity around the condition three decades ago. She kept smiling at Sammy the whole time. I was the last one in line because she was about to go on break.  While I was paying, a lady, who seemed to be a manager, came over and remarked, like the cashier, how cute Sammy was and how lucky I was. She said she had a relative with Down syndrome.
When the cashier left, I got Sammy to do his bye" wave (which is the same as his "hi" wave). The manager I and I spoke for a few minutes about the joys our loved ones, who just happen to have Down Syndrome, bring us. How she has, like I do, a great family that sees her cousin a person, not a diagnosis. Then I left.
As I walked out to the truck, I smiled, thinking how nice (and unexpected) it was to have others, complete strangers, who not only understand the joys and challenges our family has, but who are completely positive about sharing with a complete stranger. It felt almost like we were a part of a club whose members may not know each other. But when we recognize other members, we want to remind them we're all part of the club and, like our family, feel proud to be in it.
The whole experience made me feel the acceptance I wish for Sammy.
Ladies at Food Lion, thanks for the unexpected bright spot in a day that seemed so ordinary! I hope to see you both there again with Sammy!
The Mighty is asking its readers the following: Describe the moment a stranger — or someone you don't know very well — showed you or a loved one incredible love. No gesture is too small! If you'd like to participate, please send a blog post to [email protected] Please  include a photo for the piece, a photo of yourself and 1-2 sentence bio.
Want to end the stigma around disability? Like us on Facebook.
And sign up for what we hope will be your favorite thing to read at night.