To the Stranger at the Carnival Who Understood My Son
---
In the summer of 2014, some friends invited us to visit a local carnival held on the grounds of one of our local schools. We were slightly hesitant as my son, Alex, who has autism, was a bit of a loose cannon at times. Would there be anything for him to do? Would there be long lines? Will he only get a few chances at a game and once his turns were up, would he be upset?
This particular friend is a fellow autism mom and one of the most helpful people you could ever meet. We knew we'd have help and an extra set of understanding eyes. So off we went.
About an hour into it, things were going pretty well. Our youngest son was having fun. Our friend's son, although upset about something that only another autism parent would understand, was having fun too.
Alex had been in the bouncy house, went through the bouncy tunnel and went down the bouncy slide. Although there were long lines, it seemed like the idea of getting onto the slide was enough to keep him fairly calm and patient.
As we headed over to the prize tent — the kids had won tickets — I glanced over at my husband, Jeff, and said, "Where's Alex?" He'd been right next to him a half a second before this. We were all scrambling, looking around us. He wasn't there.
Panicked, I started running and left our youngest son with our friend's mom. Jeff took off in another direction, and our friend headed back towards the parking lot thinking maybe Alex would go back to the car if he didn't see us.
While I was running and screaming his name I was thinking, Why am I screaming? He doesn't answer to his name. At times, he doesn't even turn around if we call him at home, so why will that be different out at a crowded carnival? If someone else finds him, how will they communicate with him? He's completely nonverbal.
This was a panic like I'd never ever experienced.
All of a sudden this man appeared in front of me. He was an older gentleman, looked like a grandpa. "What's his name?" he asked. "What's he wearing?" I told him his name is Alex and he was wearing a blue tank top. I added that he's autistic and doesn't talk.
"OK, my grandson has autism too so I understand," he said. "We're going to find him!"
I didn't have time to tell him more, and he didn't ask anything else. And just like that, this man disappeared.
It seemed like hours were passing, although it was only minutes. Finally, Jeff spotted Alex. He was in-between the bouncy house and bouncy slide, watching the kids jump. Jeff said he looked him right in the eye when he saw him, almost like he knew he was lost and was happy to see a familiar face.
A few minutes later, the man found us. Seeing that we now had Alex, he expressed his relief that we'd found him, and we thanked him for helping us. Again, he mentioned his grandson and that he understood how scared we must have been. Then he and his wife walked away.
Fast forward to January 2015. We were out hiking the snowy trails and came across a man and his dog. Of course, the boys stopped to pet his dog. He looked at us and said we looked familiar.
"I've met you somewhere before," he said.
"Yeah? Well, we hike a lot!" Jeff said. "I'm sure we've seen you on the trails."
The man was still looking at us like he knew us but just couldn't place how he knew us.
"No, it was this summer! Yeah that's it!" he said. "He [pointing at Alex] got lost at a fair, didn't he? I was helping you look for him! Hi Alex!" As he leaned down and patted Alex on the back, he added, "My grandson is autistic, too, that was so scary!"
I couldn't believe this man remembered us! But he was right! He was the one who'd helped us look for Alex when he got separated from us at the fair. Although he'd told us he was there with his grandson and wife, we had no way of knowing where he was from. Was he just here visiting? Did they come to the carnival from a neighboring town? For all we knew, he could have been from anywhere.
Not that we wanted to re-live those moments, but it was a joy to see this man and to thank him again for helping us on that frightening day.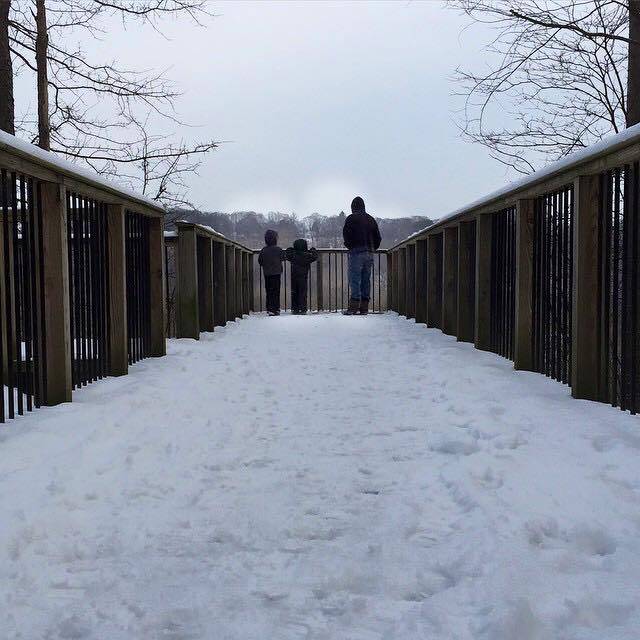 This post originally appeared on Chicken Soup with a Side of Bacon.