What a Woman's Outrageous Comment About My Family Taught Me About Myself
---
Sometimes, I think the greatest battles fought are the internal ones.
Lately, I've been fighting those internal struggles we all face. Recently, I was leaving a Publix supermarket, and music was playing. People were festive. I left at the same time as another person. We both didn't need a shopping cart and were carrying our groceries to our vehicles. I guess she felt compelled to speak to a similar smiling kindred spirit. She noticed the box of diapers in my hand. In an attempt to connect, she exclaimed, "Oh… I know your life!" She pointed to the box of diapers and smiled jovially. I stopped cold in my tracks. Because I realized how wrong she was. She thought I was buying diapers for a little one, but never in a hundred years would she ever dream that I was buying diapers for a 9-year-old.
How would she react if she knew that? She was so certain — she knew my life.
Cerebral palsy can affect any muscle group, and as a result, Noah struggles with incontinence. I'm still hopeful Noah will become fully trained in future. However, at this point, diapers are still a part of our life. I knew her words were the kindhearted, small-talk dribble of a stranger in the parking lot of Publix. There was no need to draw attention to the fallacies of her vision. Yet, in moments of idleness, I dwelled upon them. Then, I regurgitated the following to myself: Who do she thinks she is? She doesn't know my life. She doesn't know my family. She hasn't a clue. She could never imagine the challenges Noah has faced — the surgeries (two in the last three years), the therapies (at one point, Noah was doing therapy 9-5), the physical limitations, the school challenges (It takes a whole IEP team for Noah to attend.), the insurance challenges, the financial challenges. The list seems endless. Who does that? Who walks up to a perfect stranger and claims to know them? I wish I had the life she envisioned — the child who only needed diapers as a baby. The child who ate well. The child who met milestones. But that isn't my life. That isn't us. How unfair! How wrong of her to share her generalizations with someone she barely knew.
A deep-seeded missile  bore down in my psyche, reeking heartache. A pesky missile, ruining my serene existence. She only said mere words. But I launched the missile. Then, I refocused, realizing I was inadvertently watering the wrong things. It's easy to do. That's how negativity enters my life, never externally, always internally. The fact is, she didn't know us. Thus, it was up to me to stop that negative thinking. Because I also didn't really know her. Maybe, the wink she gave me was for the tickles, the toothy grin, the magnificent moments, the major meltdowns, the friends, the family, the fun, the late nights, the laughter, the long talks and the love that goes into each child. Those are the things no disability will ever take from my Noah. Those are things I should be watering. Those are things she saw when our eyes connected.
Yes, maybe, she did see my child or our family. But it was I who chose to focus on our differences. I wish I had focused on our similarities when we met. My goal this year is to water the attributes in myself that I want to see grow and prune those negative footholds that break down my spirit. So, when I meet a stranger and she smiles and says, "I know you," I can say, "Yes, you do, but you only know a fraction of my blessing."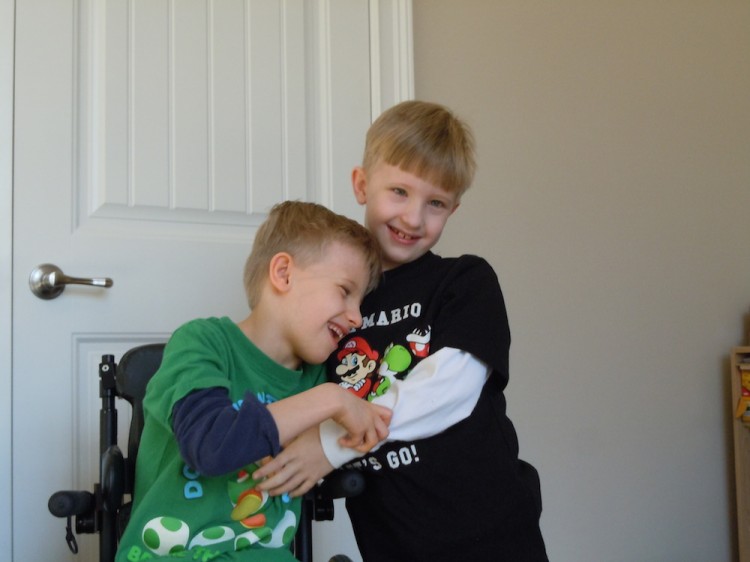 For all of February, The Mighty is asking its readers the following: Describe the moment a stranger — or someone you don't know very well — showed you or a loved one incredible love. No gesture is too small! If you'd like to participate, please send a blog post to [email protected] Please  include a photo for the piece, a photo of yourself and 1-2 sentence bio.
Want to end the stigma around disability? Like us on Facebook.
And sign up for what we hope will be your favorite thing to read at night.