When a Stranger in the Coffee Shop Noticed My Son's Disability
---
This morning, as my 5-year-old son trotted off happily with his two loving grandparents, I backed away quietly in the coffee shop, feeling anxious.
My son is nonverbal and has autism and epilepsy. While I love and trust my parents enormously, leaving him with people other than my husband generates a significant amount of anxiety. I wondered, "Will he be OK? Will he be loud and stimmy and make my parents anxious or uncomfortable? Will they remember to take him to the toilet? Will he reach out in frustration and hit someone to garner attention to his needs?"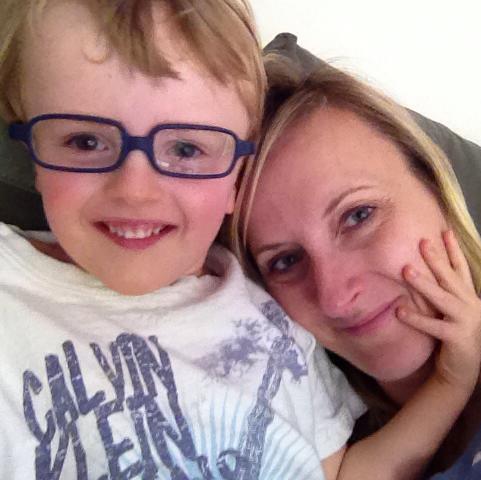 I must have looked anxious as I crumpled down in the overstuffed leather chair. An elderly gentleman across the way smiled at me and tried to initiate a conversation. He kindly asked me, "Where does your son attend school or daycare?" I answered but felt a bit unnerved that this stranger was asking me questions. He smiled and relayed that the school was a good one and hopefully I felt my son was well supported there.
I rather tentatively told the man my son has a disability and we'd purposely chosen the school based on its reputation. He flatly said, "I know he does."
Again, I felt mildly irritated and put off.
I mean, who did this guy think he was? Announcing he recognized my son has a disability perturbed me. I didn't think my son was behaving in a way that would reveal his invisible disability, and somehow this man had found him out.
The man continued and explained that he was a former vice principal at a now defunct public school that once catered to children with Down syndrome. He went on to explain that he'd also been married to a woman who had a child with a disability and had experienced and supported her struggles to access supportive care, housing and other services for his stepchild.
Immediately, my defensiveness and suspicion melted into empathy and relief.
Empathy for someone who gets it, even though they don't have a biological child with a disability, and relief that the latter suggested I was among a member of my "tribe." My tribe is a group of people who have or will spend part of their lives in the interminable but absolutely worthy struggle of exhaustion and advocacy.
By the end of this conversation, I began to realize my initial reaction of other-ing this man's kind outreach to me only subsided when I learned he was part of my tribe. Maybe, I thought, just maybe I should appreciate that this man didn't join this tribe by genetic affiliation but by choice. He chose to pursue a career in support of children with special needs, and he chose to marry a woman who also was a strong advocate for her child with complex needs.
Maybe this tribe is bigger than I realize? Maybe it's me who's gatekeeping too strongly around who I choose to reach out to, to allow in and to share my struggles with? Because speaking to this lovely gentleman offered me new hope for a larger and enlarging circle of support for all our children with disabilities.
The Mighty is asking its readers the following: Describe the moment a stranger — or someone you don't know very well — showed you or a loved one incredible love. No gesture is too small! If you'd like to participate, please send a blog post to [email protected] Please  include a photo for the piece, a photo of yourself and 1-2 sentence bio.