When I Wrote to A.C. Moore About Featuring People With Down Syndrome in Ads
---
I'm what you call a bit of an advocate. I have a son with Down syndrome, and I spend a lot of my time raising awareness, raising funds and trying to make a difference for people with Down syndrome.
On my own, I write to companies that have inclusive advertising practices. I thank them for including people with Down syndrome (or other disabilities) in their ads. And for companies that don't have inclusive advertising, I write to them and ask them to start inclusive advertising practices.
Then I became aware of Changing the Face of Beauty. This organization is trying to do exactly what I was trying to do. So I started posting on social media, using the hashtags #changingthefaceofbeauty, #imready, and #15in2015 (now #100in2015). The goal was originally to have 15 advertisers commit to including people of different abilities in their advertising campaigns, but it's been so successful that they're going for 100.
Earlier this week, I wrote an email to the "Contact Us" page on A.C. Moore's website. Their ad and their website featured a beautiful little girl with Down syndrome because of a fundraiser they were supporting. When I wrote, I hoped the email didn't go to a black hole.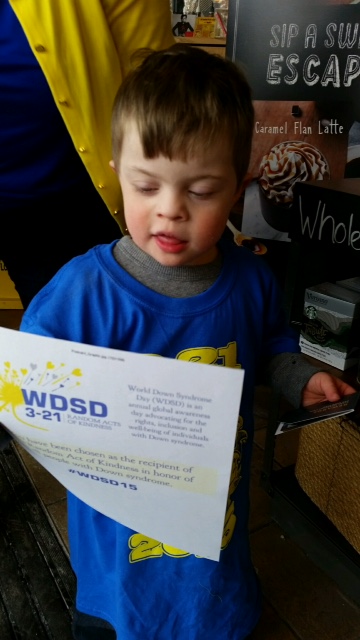 I said the ad brought tears to my eyes. I said that I have a 4-year-old son with Down syndrome and mentioned that it's rare to see a television show, advertisement or any type of media that featured a child that looked like him. I told them all about Changing the Face of Beauty and the campaign for inclusive advertising. I also loved that the ad was in such close proximity to World Down Syndrome Day. I asked A.C. Moore to consider including children with Down syndrome in their advertising… but not just for a fundraiser.
I wasn't sure the email would go anywhere, but…
Just a couple of hours later, I saw there was an email from an unfamiliar name: Mike Lyons, the VP of Marketing for A. C. Moore. Holy heck!
He said he'd thought about my email, and he couldn't think of a place in the media where kids like my son were featured either. He didn't know about World Down Syndrome Day, and he hadn't heard of the Changing the Face of Beauty organization or their campaign.
He wanted a change. He wanted to have his company be one of the 100 companies. He wanted inclusive advertising, and he wanted to figure out how, on a moment's notice, to celebrate World Down Syndrome Day at A.C. Moore.
He continued the conversation with me and with Katie Driscoll, founder of Changing the Face of Beauty. He wanted to put something in their daily email recognizing World Down Syndrome Day and Changing the Face of Beauty. Most companies move like molasses and make apologies when timing doesn't work out. Mike and A.C. Moore were moving at lightning speed, embracing our request and celebrating those with Down syndrome who were also their customers. To all companies out there, when responding to your customers' requests about inclusive advertising (or anything else, for that matter), this is what GREAT looks like!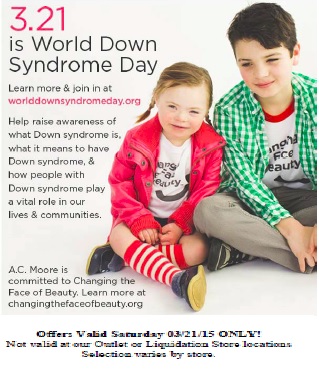 Sometimes, when we send emails to the "Contact Us" section of a website, it goes nowhere. But sometimes, you find a Mike Lyons and a company like A.C. Moore, and it brings about a big change in the form of an ad celebrating World Down Syndrome Day and announcing a company's commitment to Changing the Face of Beauty.
Keep writing, everyone. More and more companies are starting to figure out that those touched by special needs are their customers, and their customers of all abilities want to be recognized and heard. As more and more companies participate in inclusive advertising, we're going to approach the holy grail… a time when inclusive advertising is the norm.