Dear Down Syndrome, Can You Do This One Thing for Me?
---
Dear Down syndrome,
I guess I want to start this by saying thank you. I don't know if anyone can say that they "know" you fully, but I'm appreciative of all of the experiences I've had because of you. I'm thankful for the friendships I've made, and most important, I'm thankful for my best friend of all, my brother.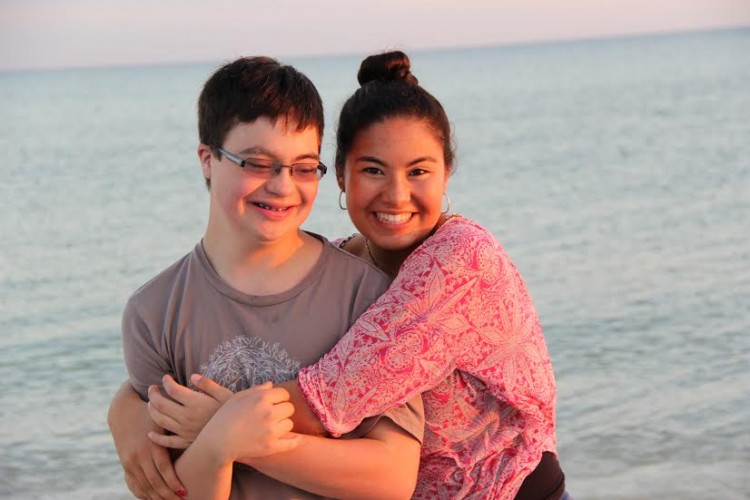 When I was little I didn't know other people thought you were a bad thing. I didn't know you were the reason why Chris was hard to understand, why it took him longer to do things, why he looked different. I thought you were awesome — in fact, I often told my parents that I too wanted to have Down syndrome so I could do all the fun therapies Chris got to do. I grew up knowing you were the reason Chris was different but also gaining the perspective that being different wasn't a bad thing. For that, I thank you.
Even though I can look beyond your flaws, it's hard for other people to do that sometimes. Nobody's perfect, I get it. But I wish everyone saw you like I did at age 5, and I wish I could still live in a world where I only saw the brightness and light you gave Chris. Sadly, that's simply not the case anymore. It's not your fault that you're the reason people think less of Chris; it can be hard to change other people's perceptions of you.
I thank you for giving me so many experiences, for teaching me about unconditional love, for showing me not to judge. I cannot imagine my life without you, and at the same time, I sometimes wish for a life without you (or with less of your bad parts). Please don't take it too personally, but a little bit of change may be nice. I'm not saying go away forever, but maybe you can stop causing so many medical problems and make it a little easier for Chris and other kids like him.
You've given me so much, and I know it's a lot to ask, but could you do that for me? And for everyone out there? I appreciate you for what you are in your best moments — a gift — but I wish other people could see that too. I've been trying hard to get others to realize all the good around you. But I need your help.
Love,
Lindsey
The Mighty is asking its readers the following: If you could write a letter to the disability or disease you (or a loved one) face, what would you say to it? If you'd like to participate, please send a blog post to [email protected] Please  include a photo for the piece, a photo of yourself and 1-2 sentence bio.