One Year Later, How I Feel About Down Syndrome
---
The room was dark, the gel was cold and I really had to pee. I didn't care. I had anxiously waited for this moment since we found out baby #2 was on his or her way. Justin was holding my hand as the ultrasound tech pointed out our baby's perfect little nose. The anticipation kept building as we counted the fingers and toes. Potential baby names and nursery themes were bouncing around in my mind while we waited for the news.
Flamingos would be fun for a girl since she will be born in the summer! Oh, but I LOVED that baby quilt with the bear wearing the bow tie I saw on Pinterest the other day for a boy! Ugh, but the name Alice would complement Adele so well… good thing this isn't up to me! I'd never decide!
Then after what felt like forever, the ultrasound tech said without much hesitation, but filled with excitement, "It's a boy!" I can't remember for sure, but I'm pretty sure I squealed. I would have been overjoyed either way; it was just so wonderful to finally know!
We spent the rest of the day celebrating by buying our little boy's first outfit, staging the perfect picture with our daughter holding blue balloons, and announcing the news to family over dinner. From sun up to sun down, that day was all about our sweet boy on the way.
Little did I know that would not be the last March 21 we would celebrate our little boy.
We had no idea that day that our precious baby would be born with Down syndrome, nor did we know that March 21 is World Down Syndrome Day. Earlier this week, I happened to notice the matching dates while scrolling through old pictures. There it was on my Facebook timeline. That perfectly staged picture with a date stamp of March 21, 2014, of our daughter Adele proudly holding blue balloons announcing to the world she was going to have a little brother. I couldn't believe it.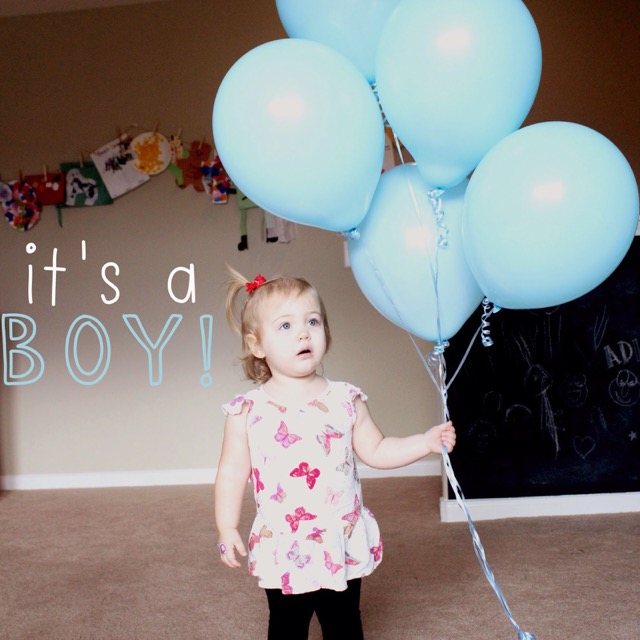 Ironic, isn't it? Poetic even?
It wasn't long after we found out we were team blue that the visions of my little boy started flooding my thoughts. We decided on the name Elliot because we thought it would look good on a campaign poster.
Elliot Wood, that's a strong name! He could run for office with that name!
We talked about how he would play tennis like his daddy, but he would have a musical side, too, like mommy – maybe he would play the guitar! We were already starting to vie for whose college alma mater he would attend. We talked about how he would probably get in all kinds of trouble as a teenager, but how funny it would actually all be in retrospect.
Every time I saw a little boy in public, I'd turn to goo thinking of my little one on the way. Life was perfect. It was turning out exactly how I had planned.
When we found out Elliot had Down syndrome after he was born, my world stood still for a moment. I grieved the little boy I thought I was going to have. This wasn't a part of the plan.
Justin and I have worked so hard to get where we are. Two college degrees, two believer's baptisms, two steady jobs, two great credit scores, one adorable daughter… this doesn't fit. How did we get here? How do we go from all of that to having a premature baby with Down syndrome in the NICU with a feeding tube and a heart defect?
I was scared. I was overwhelmed. I was unprepared.
I am embarrassed by those initial thoughts. But they were real, and most importantly, they were fleeting.
Though there are hard days still every now and then, my outlook on my little boy is the complete opposite from that day. I am so in love with my Elliot. Down syndrome might not have been a part of my plan, but it was a part of God's plan. And as it turns out, Elliot is the perfect fit to our family.
One year ago, I might have pictured Elliot differently, but now I know I have something, someone so much better on my hands than I ever could have imagined.
I have a fighter who pulled out his own feeding tube.
I have a little miracle whose heart surgery keeps getting pushed back.
I have a charmer who smiles at all the ladies.
I have a little brother who is already teaching his sister great compassion.
I have a giggle monster who thinks my face is funny.
I have a teacher who opens the eyes of everyone around him.
I have a son who I am proud of.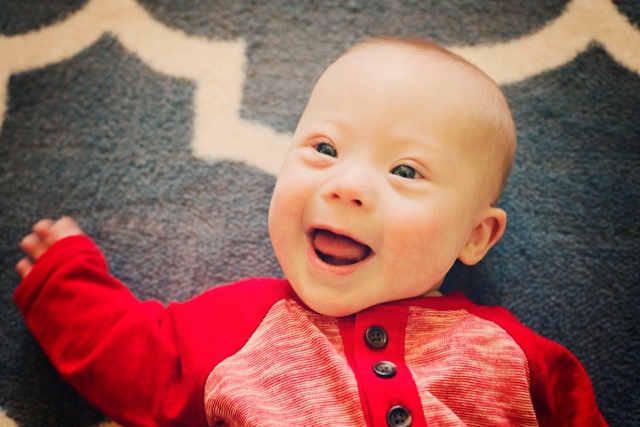 You might never see Elliot Wood on a campaign poster (or maybe you will, who knows!), but Elliot will do great things in his life. He will walk. He will go to school. He will read. He will play tennis with his dad and sing songs with his mom. He will have a job. He will love and be loved. He will change the hearts of those he meets.
As March 21, 2015, approaches, I am filled with excitement. I am proud to be a part of this global community that will join together to celebrate our kids and continue to open doors for children and adults with Down syndrome. I hope you'll join in on the celebration, too!
What a difference a year makes.
This post originally appeared on As Fate Wood Have It.
RELATED: What's One Thing You Wish People Knew About Down Syndrome?