How You Can Help a 5-Year-Old in Near-Isolation Feel a Little Less Lonely
---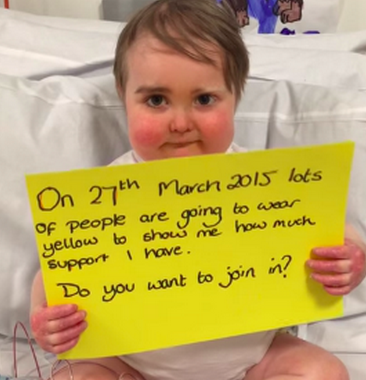 Seth Lane was born with severe combined immunodeficiency, meaning his immune system is so weak he must stay in a sterile environment to avoid coming into contact with even minor viruses. He lives in the hospital for months at a time, can't interact with others unless they scrub and wear plastic gowns and wasn't introduced to other children until he was 2 and a half years old, BuzzFeed reported.
With his second bone marrow transplant coming up, it's more important than ever for Seth, now 5, to stay healthy, which means near-isolation living conditions. So, Seth's dad, Nik Lane, came up with a creative way to help him feel a little less lonely. He filmed Seth holding up a series of signs asking people to support him on March 27 by sharing pictures of themselves wearing yellow, Seth's favorite color, with the hashtag #WearYellowForSeth. The video quickly went viral, garnering more than 2 million views in less than a week, The Daily Mail reported.
"#WearYellowForSeth is something we'd like to do to be able to show Seth all the people in the world that are thinking about him," Lane, who lives in Northamtonshire, England, wrote on the family's blog. "We have a map of the world in his room and will pin all the countries where people have posted a picture from."
See Seth's entire message in the moving video below, and don't forget to wear yellow on March 27!
To participate in the campaign, take a picture of yourself wearing yellow and upload it to Twitter, Facebook or Instagram with the hashtag #WearYellowForSeth.
To learn more about Seth's story, visit his family's blog and check out their Facebook and Go Fund Me pages.
Want to celebrate the human spirit? Like us on Facebook.
And sign up for what we hope will be your favorite thing to read at night.