How a Little Voice in My Head Helped Us Cope With the Diagnosis
---
Dear Down Syndrome,
When I first began to think about what I wanted to say to you, I searched my heart for anger or resentment. Surprisingly, I found none. I was so certain that I must hold some negative feelings that I attempted to force the words. None came. I realized that my feelings toward you were neutral.
While I acknowledged your presence and your impact, my heart can't hold any anger. It is too full of love.
My baby boy, Sebastian, was born 21 months ago with Down syndrome. We didn't know prior to his birth. We elected not to undergo any genetic testing because we knew we would not choose to do anything other than welcome and raise our child.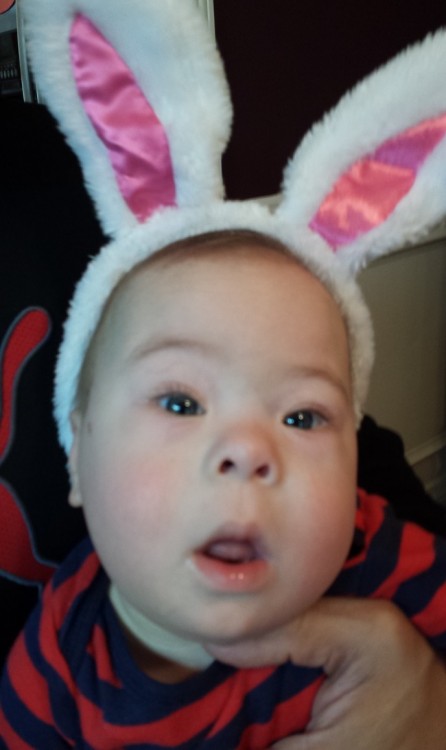 I knew little about you but was flooded with negative images of delays, health issues and burdened parents. When we found out our beautiful, precious little boy had Trisomy 21, I cried. I grieved. I worried. I prayed to God, and I was consumed with fear.
A small voice kept telling me it was going to be OK and that Sebastian was a gift. I held onto that voice and the feeling of strength it gave me. The voice grew and became stronger than my doubts and fears.
As I held my little baby boy, cared for him and looked into his eyes, I knew the reassuring voice was right.
Sebastian is a gift. He has a special magic about him. His smile and his steady, wise gaze confirm this for me daily. I know I'm his mother and I'm biased as all mothers are and should be, but this little guy is something special. When he looks at you and smiles, you feels as if two souls are meeting. He engages the highest, best part of people and elicits such amazing love.
I can't help but think that you, Down syndrome, played a role in this. Sebastian got an extra dose of the beauty of humanity along with that extra chromosome. For that, I'm so thankful and feel so blessed.
We created one amazing little boy, Down syndrome. Thank you.
The Mighty is asking its readers the following: If you could write a letter to the disability or disease you (or a loved one) face, what would you say to it? If you'd like to participate, please send a blog post to [email protected] Please include a photo for the piece, a photo of yourself and 1-2 sentence bio.