Thank You, Down Syndrome, for My Beautiful Life
---
In honor of World Down Syndrome Day on March 21, this is an open letter to the genetic anomaly that my younger son possesses.
Dear Down Syndrome:
Thank you. You probably don't hear that very much, but that's really what I want to say to you.
You were a blip on our radar until our younger son, Will, was born in February of 2011. A friend's brother who always had a hug and a smile; a neighbor's daughter who passed away right before I was born but whose rocking chair my sons still use; a box left unchecked on a medical history form in the geneticist's office; a character on a popular TV show whose sister was my age…  until the day you knocked on our door.
The pediatrician came into my hospital room and said she wanted to talk to us about some concerns she had about newborn Will – concerns? That he's so cute the other parents in the hospital are envious? At almost 7 pounds, 37 weeks, a full head of hair and beautiful blue eyes, we found it hard to see. To be honest, four years later, I still don't see it most days.
I see a beautiful, healthy and smart little boy who I frequently call by his older brother's name because to me, they look exactly alike. I see a good-natured child who has to walk a gauntlet of high-fives and hugs on his way into school every day – pre-K, public school, at four! We skipped a year to start early as a result of his "disability," saving us THOUSANDS in private preschool tuition.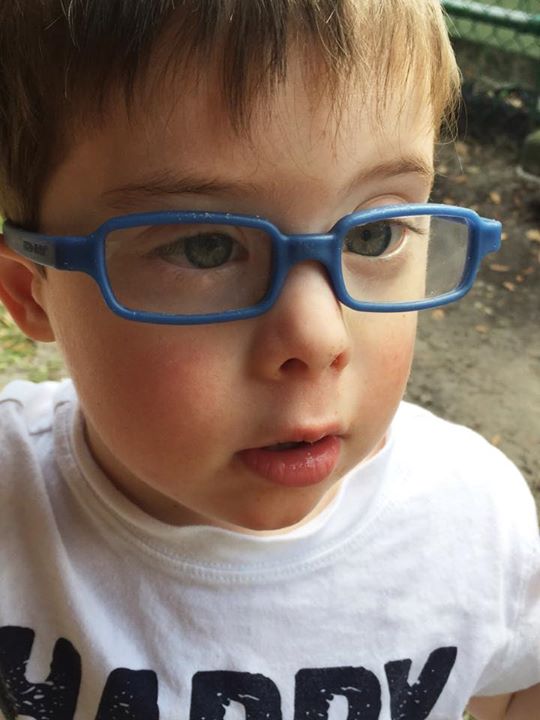 Will's first day in pre-K, I was so nervous about putting him in a class of "typical" kids who were a year or two older. When we walked in, one kid was crying and pointing to Will.  The teacher asked him what was wrong, and through his tears, he pointed to Will and said "He's too friendly!!!" So there we have it – our son's disability is that he's too friendly.  I'll take it.
Before we had Will, we just had Jack – another beautiful, smart, happy and healthy child, and we took so much for granted.  He spoke in sentences at a year and read by 18 months. He reversed his pronouns appropriately at 2 ("You're going to bed." "I'm going to bed?"), he laughed easily, he ate everything in sight, he slept twelve hours a night, he was our perfect baby.  Little did we know that perfect comes in more than one package.
We worried, fretted, over how Will would impact his life. In retrospect, this seems absurd.  He is the best of big brothers, he adores having a happy little brother to play with and share toys. He told me this week that when he gets into college (at least a decade away!), he is telling them that he won't come unless his brother can come, too.
We didn't know how much we took for granted until we got the gift of perspective in the form of this beautiful child. We celebrate every little thing now.
Today, Will's teacher called to him on the playground. He was obscured by a tiny wall and she couldn't see him. "Will! Where are you?" she called, and was very surprised to hear "Right here!" coming back at her. At four years old, his language development is exploding with new words and phrases every day and they are delightful. I pointed out a bird walking near the car and he corrected me: "WHITE GOOSE!"
At Jack's soccer games, he's DYING to play (he will register in the fall) and cheers very enthusiastically for the ball. "GO YELLOW BALL!" I see him figuring out how to count to five on his fingers. He's reading some sight words (JACK and LEGO were the first) and there is no doubt in my mind that he will be ready for kindergarten with the rest of his class.  He is enrolled in a public k-8 and by the time he graduates, I fully expect that he will be student council president. He's wildly popular, and his brother couldn't be more proud.
We have a beautiful life, and without Will, we probably wouldn't even know it. So thank you, Down syndrome, for that gift.
This post originally appeared on That Mom Dot Com.
RELATED: What's One Thing You Wish People Knew About Down Syndrome?
The Mighty is asking its readers the following: If you could write a letter to the disability or disease you (or a loved one) face, what would you say to it? If you'd like to participate, please send a blog post to [email protected] Please include a photo for the piece, a photo of yourself and 1-2 sentence bio.