Dear Doctors Who Care for My Son, This Is Why We Will Not Be Ending His Life
---
A few years ago, our family was thrown into the world of medicine full-force when our son was born extremely premature with a number of birth defects requiring surgery and extensive ongoing medical support.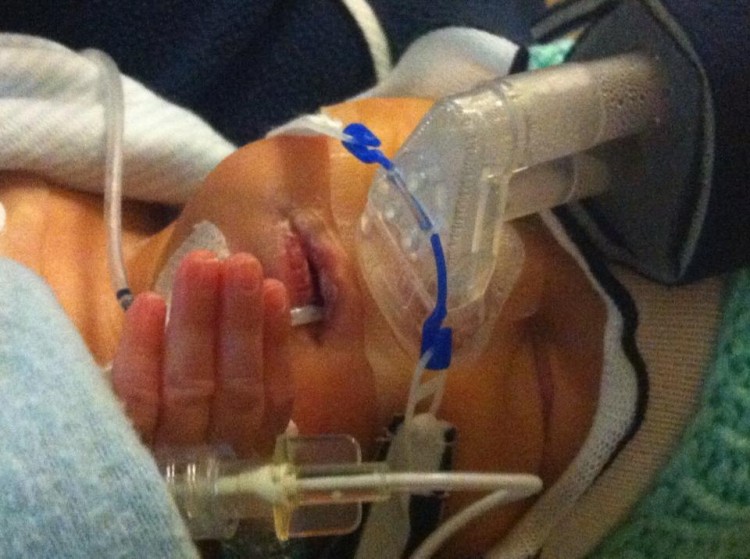 After many months of hospitalization and many talks with our doctors, my husband and I reached the point where we asked ourselves way too many times, "Are we doing the right thing?" Our answer was always the same — yes — but if our answer was always the same, why did we find ourselves having the conversation so much?
It wasn't an easy talk to be having, and we had much better things to talk about over dinner. We soon realized the reason we were asking ourselves this question so often was not because we thought we were doing something wrong for our son, but instead because our team at the hospital kept on giving us the impression we were doing something wrong for our son. We also realized that although our medical team was trained in how to care for our son, they were no better than us in determining the future for our son and for our family.
All the evidence-based medicine in the world does not equate to a crystal ball that can see into the future, especially for a child as complex as ours. No one was able to predict what condition "Y," plus condition "X," with a little of personality "Z" thrown in for good measure, would mean in the end. So as a family we decided to do what we could to put a stop to those talks at the hospital. We knew we could not fully stop the medical team from giving us bad news, and we never wanted them to stop being honest with us, but the least we could do was to lay out our expectations for them and what they could expect of us.
In summary, this letter is a nice way of telling our doctors, "I value your opinion, but please shut up about what my child will not do and stop bringing us down every day."
An Open Letter to Our Son's Medical Team:
We would firstly like to express our heartfelt thanks for all the care you've provided for our son up to this point. We're truly thankful for your medical expertise, diligent care and the love you continually provide for both our son and our family. Over the past eight months you've supported us and educated us, showing us how to be the best caregivers possible for our son.
The purpose of this letter is to inform his caregivers of our understanding of his medical condition and share with you the reasoning behind our decision to continue to provide our son with the full opportunity to thrive.
From our first ultrasound at 12 weeks, we were made aware our son was to be born with a serious birth defect. From this initial diagnosis we were made aware that his potential for survival was minimal, and his life, if he were to survive birth, would be fraught with surgeries and hospitalizations.
At this time, as a couple, we went home and had multiple discussions around our future and the potential future of our son. We decided after deep thought, much research and discussions with family that we would provide our son with every opportunity to thrive, despite the consequences and sacrifices that would mean to us personally. Since that initial OB appointment we were continually provided with more medical evidence guiding us towards termination. Every two weeks we were asked if we were sure about our decision. As the pregnancy became more complicated, we were provided with multiple opportunities to terminate and multiple points at which we should prepare for his death. At each one of these forks in the road, together we decided again to provide him with every opportunity to thrive.
Now some have argued that with a patient as complicated as our son, there will always arise a new issues or diagnosis that may constitute another discussion around continuing his care or turning towards palliative care. As a couple we are both very much aware that our son's condition is fluid and at any point we should prepare for his death. However, it is important his caregivers understand as his parents we're always prepared for his death and consider every minute we have with him as precious. We're always open to listening to medical opinions, and we openly welcome being part of every discussion around our son's care.
However, also be aware that we too have opinions of our own, and our opinions are formulated based on listening to all of our son's caregivers as well as listening to our son himself.
Some say we may be in a state of denial to the full condition of our son. But I can assure you fully, we have surpassed denial and have moved on to a state of acceptance. We accept fully that our son is a complicated patient. We accept that it may be one of his major medical ailments that could kill him, or a simple infection, operation or one of a million other causes. We have no dreams of the day he comes home, we have no nursery set up in our home awaiting his arrival. We have accepted that we must live in the moment and are trying to enjoy each moment we have with him.
It is with this understanding that we hope you can respect our request to limit discussions around end of life decisions or DNR (do not resuscitate) orders. As stated earlier, we have decided to provide our son with every opportunity to thrive, and we hope you can respect our decision. We ask you to continue to share your medical expertise and opinions with us, but please trust us to ask you about palliative care and end of life decisions when we deem it necessary. A kind statement as simple as, "We think his condition is grave," is enough. Trust that we know what to do next, and we will come to you with questions.
Finally, let me close by providing you with some personal background that might help you understand how we came to this place of acceptance and understanding. Three years ago, in the midst of a normal pregnancy, only one week after an uneventful anatomy scan with no abnormalities detected, I gave birth to our first son at only 21 weeks.
No one sat us down days before this happened and prepared us, no one gave us a diagnosis beforehand for us to consider future outcomes. Instead, in an instant, the future we saw before us disappeared. Unlike many parents you may encounter, we already know the pain of losing a child. We know the darkness that lies ahead of us and the immense pain we will have to overcome. It is with this knowledge we have decided to live very much in the present and enjoy the moments of joy we can have with our son while he is here with us and accept whatever is to come whenever it decides to come. Your efforts to prepare us, although kindhearted, take away from the time of joy we can have with our son.
When our joy turns to pain, as we see him suffer, we will be the first to inform you of our wishes. Until that point comes, I hope we can all continue to provide him with every opportunity to thrive.
I hope we can continue to work together as a team to provide the best care possible for our little fighter.
Thank you.
We want to hear your story. Become a Mighty contributor here.