The Moment That Taught This Teacher a Great Lesson About 'Best Work'
---
In the Pre-K classroom at our school, we have a "My Best Work" board. The children get to display any work that they are proud of to place on the board for everyone in the class to see. Our board is filled with everything from letter of the week zebras and the goldfish counting tank to name trains.
But today, we learned that "My Best Work" doesn't always involve paper and color crayons.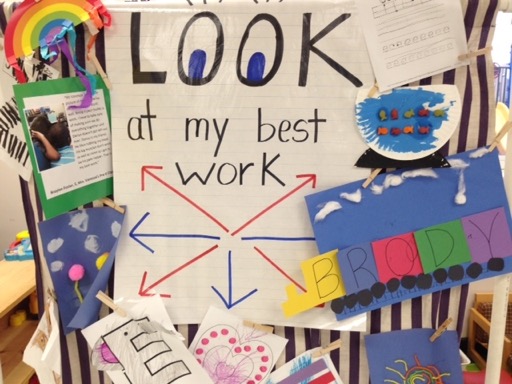 In our class, some students with differing abilities get to select a peer buddy, sometimes only through hand gestures. This is a much-coveted job in the class.
"John" was selected to be the peer buddy for "Lewis." John is a very good peer buddy; he loves being selected, and he takes the job very serious. Today was no different.
He sat by Lewis at each activity, and they played outside together and ate lunch together. Today during circle time, I looked over and Lewis was in his tumble form chair and John was right beside him. Lewis loves to rub and touch and sometimes pull hair a lot! Some children move away and don't like to have their hair touched. I looked over and Lewis was rubbing John's  hair and John was sitting there smiling. He knows Lewis loves this! Lewis then put his arm around John. I took a quick snapshot to add to the class yearbook. I printed out the picture.
One of the teachers showed John and Lewis the picture and said she was so glad they were both good friends. Then I overheard the following conversation.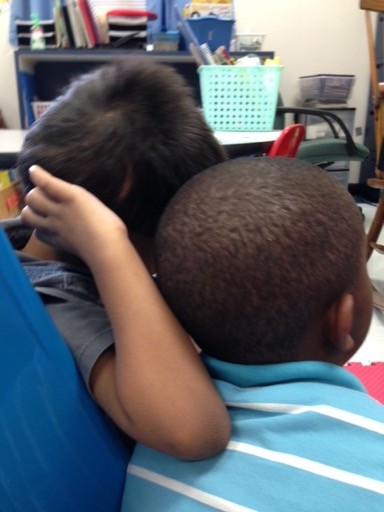 "I want the picture of me and Lewis on the 'My Best Work' wall. Being a peer buddy is fun and work. I get to help make sure Lewis and I do everything together and Lewis doesn't get left behind ever. No one gets left behind in our class" and then he made the sign language sign for sticking together.
"Lewis is my friend. He likes rubbing my head. His leg muscles don't work as well as mine do so I get to help him. That is my best work. Can I put the picture on the board?"
The teacher and I then smiled a big smile with a little tear in our eyes and proudly told John that anything he thought was his best work can always go on the board.
Then we both gave John a hug and told him it was his best work and that sometimes our best work doesn't include crayons or paper. He walked over and hung up the picture.
Want to end the stigma around disability? Like us on Facebook.
And sign up for what we hope will be your favorite thing to read at night.