March 18, 2015
Powerful Photo Campaign Challenges the Way We Often Portray Depression
---
Think of the image you see most often associated with mental illness. Is it a picture of a person sitting in the dark, holding his or her head in their hands? If you answered yes, you're not alone — a quick Google image search of the terms "depression" and "anxiety" turns up almost exclusively pictures of people sitting in the shadows clutching their heads or grimacing, white-knuckled at the camera. But that's merely a stereotype.
The U.K.-based mental health advocate organization Time to Change recently launched Get the Picture, a movement that works to stop these overused, stigmatizing photos by providing alternatives that depict real people living with mental illnesses.
"People with mental health problems don't look depressed all the time," its website reads. The campaign uploaded a broad selection of high-resolution photos of people with mental illness in realistic poses and situations: at work, sitting together and smiling. The photos are free to download and can be published alongside stories and features.
So instead of seeing pictures like this:
We can start seeing pictures like these: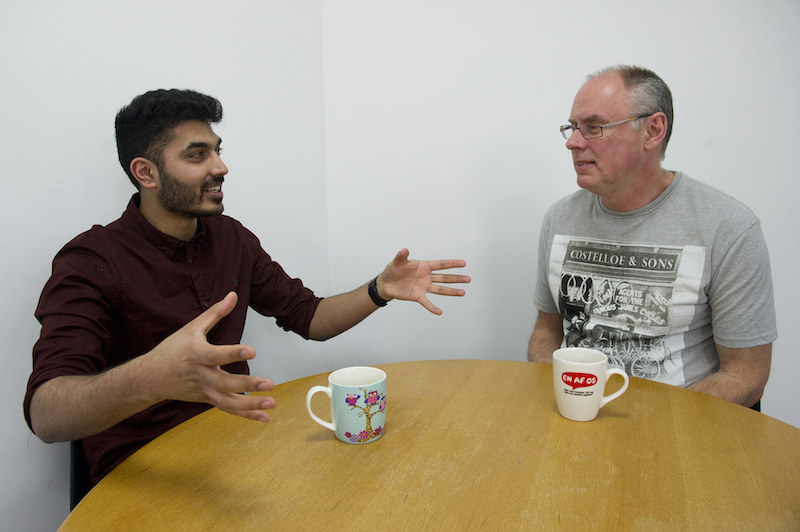 Hear more about this awesome campaign from the people who are involved in it in the video below.
To participate in the campaign, upload a silly "headclutcher" selfie and tweet it with #GoodbyeHeadclutcher.
Want to end the stigma around mental illness? Like us on Facebook.
And sign up for what we hope will be your favorite thing to read at night.