March 19, 2015
When a Field Trip Made My Grandson Feel Like He Let Us Down
---
Sometimes I'm reminded that life is hard when you're a kid. Especially when you're a kid with a few more "issues" than some. Let's face it, every kid and adult has things that make life a tad more "challenging" than others but, if we are lucky, we have people who love us and make us feel better about them.
Today was my grandson Adam's first field trip without his mom or me with him. As some of you know, Adam has a few more "challenges" than many, but certainly fewer than some. Adam has a peanut allergy and a sensitivity to sugar, and these things don't help the fact that he is a little boy dealing with being on that incredible rainbow I call the "Spectrum." Many of his challenges have been met and won, and some are more difficult to control.
Adam, like most little boys, gets very excited, but with Adam, it can be an ever-quickening journey to a tornado.
So today we sent him off to his first kindergarten field trip. A right of passage. He had his special lunch in a bag, his name tag on his chest, and a big smile on his face. That's what I saw when he left this morning. What I saw 7 hours later was not the same little boy. What I saw when the school bus pulled up was a very sad face looking out the bus window.
Today, they all went to see a play, which after much hugging and stroking, he told me was about a cow, a cat, a plate with a face, and a spoon. "Ah, I think I know the one," I told him. A play means sitting still and listening quietly. These are all "challenges" for Adam. Combine that with the fact that they had just gotten off a 30-minute bus ride on a noisy bus filled with excited kids. He said with tears in his eyes, "I don't think I did very well, Nana."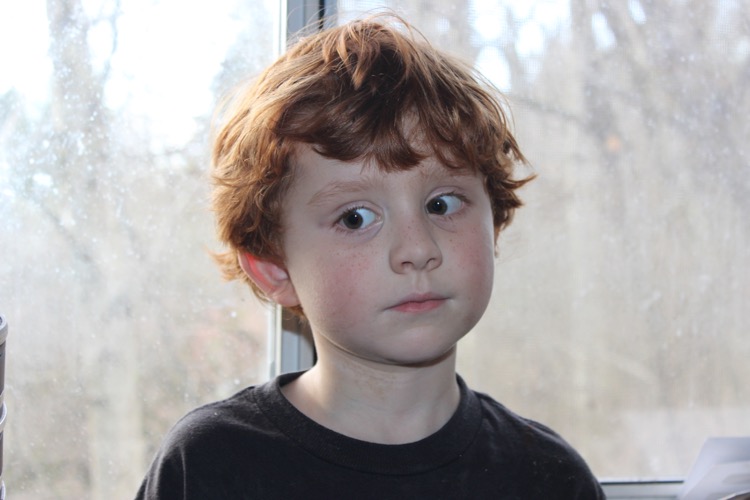 Poor baby.
We talked about everything he did, from the time he left the house until he crawled into my arms on the side of the road as the school bus pulled away.
I don't think he did as badly as he thinks. I think he did a very good job.
He's afraid that they will never take him on a field trip again. I think his teacher is probably a lot more impressed with his conduct then he thinks.
But Adam, at 6 years old, has learned that he is judged by his actions and held to the same set of standards as everyone else. This is something we all learn, just not usually at 6. But he feels like he let us down. Worse yet, he thinks he let himself down.
Too old for 6 years of age.
I cuddled him, and we talked. I told him I didn't think it was as bad as he thought. I pointed out that there weren't any notes from his teacher. I told him we would go up and talk to his teacher tomorrow and work this out. I told him I loved him and that no one is perfect.
And now, writing this, I am crying. Why? Because sometimes we forget how hard it is to be a kid. It shouldn't be so hard but, even at 6, we play the hand we are dealt.
So I told him I wanted to take a special picture of him to commemorate his first field trip. I took the first one and he asked to see it. He decided he wanted to take another one with a big smile, not a sad face.
Then he decided he wanted to take one with a silly face.
He told me, "I like the one with the silly face, Nana. That's the way I feel now. Thanks for the hugs and the snack." And off he went to play.
And that was his first field trip. It may not seem like much to us, but for him, it was the beginning of his independence. His first baby step away from us and into the big world on his own.
Maybe that's some of my tears. Now, they are happy tears.
Want to end the stigma around disability? Like us on Facebook.
And sign up for what we hope will be your favorite thing to read at night.