Comic books need me.
That sounds terribly presumptuous, doesn't it? Before you judge, hear me out.
Almost five years ago, I was little more than a fan of comics. Sure, I'd been writing reviews, doing the occasional interview here and there. Writing comics? If you asked me about that then, my right eyebrow would have raised into a tiny mountain followed by a spew of coffee and a garbled "No." I honestly had never thought about it, and there was this tiny event on the horizon involving the birth of my son. Multiple sonograms had told us he had a good chance of having Down syndrome and heart defects, so my brain was a little preoccupied.
The first year of my son's life was full of surgeries, multiple near-death experiences and uncertainty galore. It wasn't until the success of his last major heart surgery that I could think, let alone breath again. It was in that moment that my love for comics came rushing back. Except the difference now was that I was looking at comics through the lens of my son.
What comic books are out there for him? 
I scoured the internet, looking for comics that incorporated characters with Down syndrome. As time went on and with nothing to show for my troubles, I got upset. Juxtaposed to the "real world" comic books are supposed to be a place of acceptance, of inclusion. But for my son, comics would be just another place where he felt alone, left out, passed over. If I was lucky enough to share my love for comics with my son one day, how would I respond to his asking why none of the characters look like him? Why were there no stories about how amazing people with Down syndrome are? Which would lead me to this…
Why didn't I do something about it?
That's what drove me into writing comics. It's something too important to leave up to the comic book industry. I mean, the industry is still struggling to figure out how to include women in their stories without exploding; there's no way I'm waiting for it to figure out how to include people with Down syndrome. This is my son we're talking about. That's why it's up to me, the guy who was overjoyed he didn't have to take creative writing to finish his college degree. It was up to me to create a comic book for my son. That's why comics need me.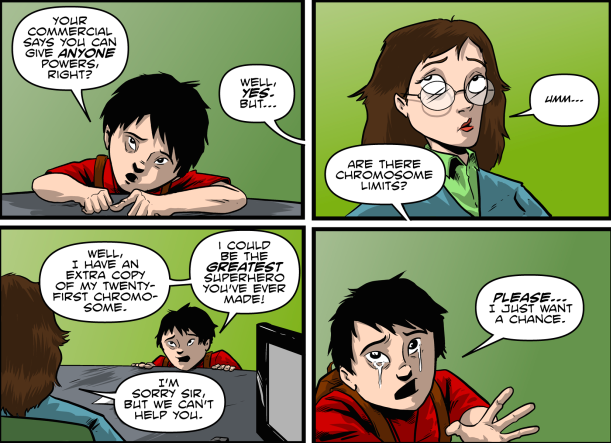 Unhappy with the state of comic books? Are there no comics out there for you? Go make comics. Or seek out and support the creators who are trying to make comics for you.
Comic books need you.
If you like comics that are for everyone, I hope you'll check out "Metaphase." Inspired by my son, it stars a kid superhero with Down syndrome. You can preorder it in the April edition of Previews via your local comic shop or through Amazon or Midtown Comics. In stores June 2015!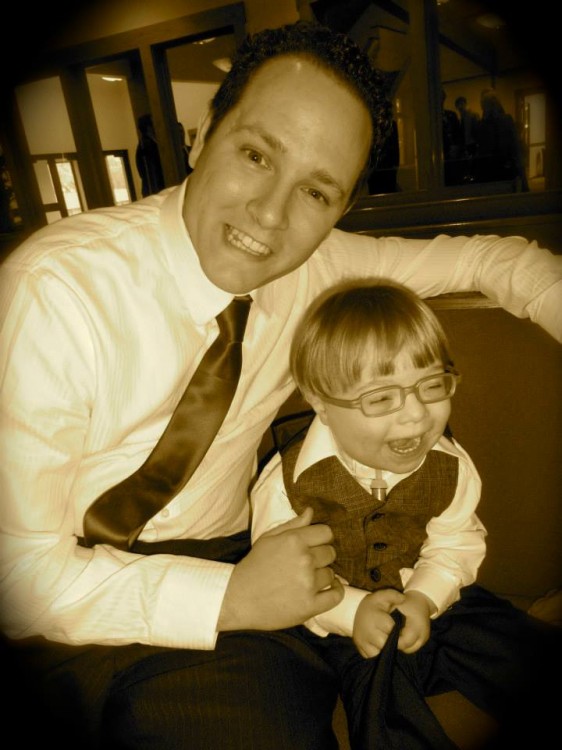 This post originally appeared on Chip Off the Old Blog.