April 20, 2015
When a Coworker Caught Me Off Guard With a Question About My Son
---
One of the common early clues of autism is speech delay. That was the case for my son, and we've come to appreciate both — the spoken word and the ability to communicate in other ways.
Contrary to what doctors told us, we never bought into the notion that Darrin Khan would never be able to speak. Still, we taught him sign language until he developed the verbal skills to communicate with us. Signing empowered him then, and he still uses it on occasion today. Though he's far from conversational, Darrin has come a long way verbally. The communication challenge now is when he's at or nearing a meltdown.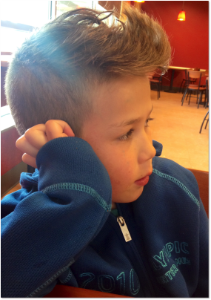 Meltdowns are rarely about the moment. In our case, they're typically rooted in being tired, over-stimulated, hungry, in pain or combinations of those four. It's during those times when we have to rely on unspoken words because he simply won't tell us. The most challenging situations are when we don't know either the underlying issue or the issue of the moment.
He is a sweet boy, and we've been fortunate that he's never been prone to violence like some kids, but lately he's started hurting himself when he's frustrated. It's hard to explain the feeling of helplessness while your child is banging his head on the ground or hitting himself repeatedly on the side of his face. Any effort to stop him only escalates the situation.
We learned early on that our parental instincts and
experience weren't always effective with him. It's during meltdowns when tensions peak that we are reminded of this cruel fact. I wish I could say we've always been able to resist the urge to yell at him or physically restrain him when he's melting down and hurting himself. It's one thing to know that calmly and silently waiting it out is the only real solution, but quite another to actually do it.
Last week was pretty tough. He was unusually prone to meltdowns and we weren't sure why. We eventually figured out that he had a sinus infection without the usual symptoms. During that week he communicated in a new way, which was a major achievement. He was on the verge of a meltdown at bedtime and we were trying to figure out the problem.
Fighting back the tears he simply said, "Draw." He loves to draw, so we took it to mean that he wasn't ready for bed. It seemed like a reasonable compromise given the week he was having, so I let him draw. He immediately drew a picture of a different bed in the house. Then I remembered that he told me earlier in the evening that he wanted to sleep in that bed. He was certainly capable of verbalizing this, but that's not how it works when he reaches this stage. I asked him if he wanted to sleep in that bed. With relief in his teary eyes, he simply said, "Yes."
We could have easily missed that clue. He's got hundreds of pictures around the house and we've never viewed them as a form of communication. If we can get him to use drawing as a communication tool when he gets to this stage, we will have reached quite a breakthrough.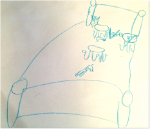 My own communication challenges are rather legendary and people often wonder what I'm thinking. I prefer to focus on the best of Darrin Khan when I write about him. I don't want people to pity him and I want to share the amazing parts of him that most people don't see. If I'm being honest about autism awareness, I have to include the full picture of kids like DK, which includes extremes in both directions.
I don't want him defined by his weaknesses, his meltdowns or his autism, but they are part of the total package. It's a package that includes stress we feel in public when he's on the edge of losing control; the panic I see in my wife's eyes while he's hurting himself; the pain and despair I see in those eyes long after he's back to his joyful self; the guilt I feel for being embarrassed during his more public meltdowns; the power of the word 'retard' to remind us how society views him; the looks of disapproval from people who might know, but don't care; and the acceptance that, in spite of the support we get in this fight, we need to be prepared to fight alone.
The package also includes the questions my wife and I ask ourselves all too often. Why is he upset? Are we doing enough for him? Will his sisters eventually resent him? Are we hurting him by not putting him on ADHD drugs? What will middle school bring? High school? What happens when he transitions to adulthood? And the question that rarely gets spoken, but is never far from our minds: what will happen to him when we die?
I was talking to a new colleague a couple days ago and he was asking me about my research interests and my son. I've had many conversations like that, but he surprised me with a simple question. "Do you worry about him?" I guess I assumed that went without saying. At that moment I realized that no thoughts occupied more of my time than worrying about my son. My answer was a simple as his question. "Yes."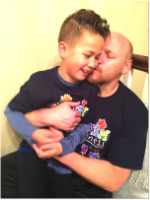 There are many things we can't control, but we can control where we direct that worry. We choose to look forward and enjoy all that this life affords us. We spend a great deal of time thinking about maximizing his potential and very little thinking about how he got or why he has this disorder. We could worry about the next meltdown, but it's so much more rewarding to look forward to the next picture he draws or the tickling he loves and expects at bedtime or his newest dance or the way his smile and hug at the end of a tough day can make you forget all about it.
We do worry about his place in the world, but we are comforted by his place in our home and the constant love, pride and acceptance he receives from his sisters. True, there are moments when we mourn the loss of the life we imagined for him, but many more moments enjoying the life he actually has.
That's the full package. We are a family of extremes with many more good days than bad. We are happy, scared, grateful and stressed, and an uncertain future allows us to appreciate today. We make sure we have more smiles than frowns and more laughs than tears. Darrin Khan's spirit and creativity have taught us more about love and priorities than we ever imagined and we are a much better family because of him. No words necessary for that lesson.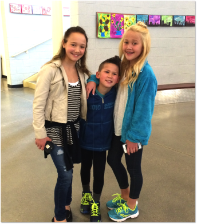 I was recently reminded of a quote by the late, great Jim Valvano. "If you laugh, you think, and you cry, that's a full day. That's a heck of a day. You do that seven days a week, you're going to have something special." Darrin Khan has given us a lot of full days.
The post originally appeared on LinkedIn Pulse.
Want to end the stigma around disability? Like us on Facebook.
And sign up for what we hope will be your favorite thing to read at night.